In spite of some outdated ideas about science and faith, these 30-second explanations form an interesting tour of science history.  Ages 8-15
Science Ideas in 30 Seconds: 30 Breakthrough Theories for Junior Geniuses Explained in Half a Minute by Dr. Mike Goldsmith.  Ivy Press, 2016, 96 pages, including index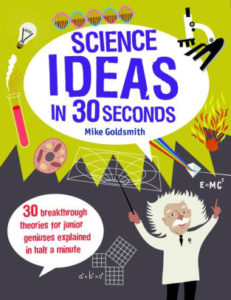 Reading Level: Middle grades, ages 8-10
Recommended for: ages 8-15
Do you have trouble remembering what "relativity" is?  Can't explain quarks or quanta?  Could use a quick tour through great scientific ideas over the ages?  This may be the 30-second reference guide for you.  With all the demands on our time, Quick has all the charm of Free, even though the thirty seconds is a bit of a misnomer.  It took me about 35-38 seconds to read and comprehend a sampling of these ideas, but I guess "38 Seconds" doesn't have the same ring.  Other quibbles—the illustrations of each scientist don't necessarily bear any resemblance to the person, and ideas are only sketched, which is necessary in the promised less-then-a-minute time frame.  Also, the author falls into the tiresome cliché that religious faith necessarily precludes science (e.g., "Unlike other societies before or since, people in ancient Greece were not told what to think about the world by their religion").  That connection naturally pops up with the theory of evolution, credited to Charles Darwin, even though the theory wasn't original with him.  Natural selection, Darwin's particular contribution, is not mentioned in the pages on evolution.
Quibbles aside, the ideas are conveniently divided up into six historical periods with a glossary for each section.  Each idea is presented on a double-page spread with simple illustrations and diagrams, a '3-Second Sum-up", and a "3-Minute Mission," or experiment.  Many of the experiments are unique, and look like fun.  Altogether the approach makes for a lively compendium of science history.
Cautions: Worldview
Overall rating: 3.5 (out of 5)
Worldview/moral value: 2.5
Artistic value: 4
Talk amongst yourselves...