Graphic novelist Don Brown offers a fascinating picture book about early hydrogen ballooning.  Ages 5-10
Up & Down: The Adventures of John Jeffries, First American to Fly by Don Brown.  Charlesbridge, 2018, 39 pages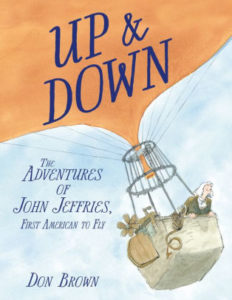 Reading Level: Picture Book, ages 8-10
Recommended for: ages 5-up
Dr. John Jeffries of Boston picked the wrong side in the American Revolution by staying loyal to his King.  Rather than face the ire of the Sons of Liberty, he fled to London to continue his practice.  Besides a man of medicine, Dr. Jeffries was also a man of science, with a special interest in weather patterns.  Lucky for him, experiments with hot air and hydrogen balloons were all the rage in France and England.  They posed an interesting challenge: what if he could ascend to the heights, not for fun, but to collect data?  He hired Jean-Pierre Blanchard the daredevil balloonist to take him aloft: first for an up & down test run, and next to be the first to cross the English Channel by air–an expedition that almost ended in disaster.
Don Brown loves history and it shows in his graphic non-fiction like Drowned City.  Up & Down is no exception.  With deft, loose-lined illustrations and well-chosen details he draws young readers into a time and place (Europe in the first bloom of experimental science) and leaves them smarter than they were before.
Cautions: None
Overall rating: 4 (out of 5)
Worldview/moral value: 3.5
Talk amongst yourselves...