Pass Go and Collect $200 is fun, relatable social history for Monopoly fans and anyone who ever had a great idea.  Ages 6-up
Pass Go and Collect $200: the Real Story of How Monopoly Was Invented by Tanya Lee Stone, Illustrated by Steven Salerno.  Henry Holt, 2018, 40 pages.
Reading Level: Middle Grades, ages 8-10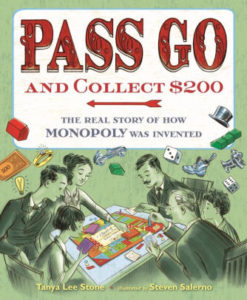 Recommended for: ages 6-up
"What kind of Monopoly player are YOU?"  Almost everyone from the age of 8 to 80 has played the game at one time or another–and that has been the case ever since the 1930s.  Its origins are as complex as the game itself, beginning with the financial crises of the late 19th century and a pioneering woman named Lizzie Magie.  Lizzie was an opponent of rapacious landlords who used their wealth to buy up desirable properties and charge outrageous rent.  Her "Landlord" game featured two sets of rules: one for ruthless competitors and the other showing "a fairer way to play, which had people sharing money when it was earned . . . Lizzie hoped kids would see just how unfair the first set of rules was and grow up to play by the second set in life."  Perhaps they did, but ruthless competition made for a more dynamic game.
Lizzie patented "Landlord" and tried to sell it to the three Parker Brothers.  They were intrigued but thought it would never catch on.  The game passed into the public domain, collecting fans and improvements, but it took a  busted entrepreneur named Charles Darrow to make "Monopoly" a nationwide hit.  Meanwhile, what about Lizzie Magie?
The author drops a few hints about her sympathies but gives all the major players a fair shake.  Clever illustrations that incorporate elements of the game (like Chance cards and player tokens) add to the enjoyment of learning some social history and basic economics.  The narrative ends with historical trivia and a page of math word problems based on Monopoly finance.  Monopoly is a cutthroat game, but the book is good-natured fun.
Cautions: None
Overall Rating: 4.25 (out of 5)
Worldview/moral value: 4
Artistic value: 4.5
More than 75 books for children and teens, all about islands, oceans, and more. Bonus: get a free hand-drawn reading tracker!
Reading Ahead for You
Reviews and Resources Weekly in Your Inbox