L.M. Montgomery's life was overshadowed by sadness, but this biography shows how she was able to give the world one of its most beloved literary figures.  Ages 16-up
House of Dreams: the Life of L. M. Montgomery by Liz Rosenberg, with illustrations by Julie Morstad.  Candlewick, 3028, 338 pages, including bibliography and index.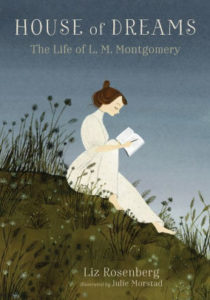 Reading Level: Teen, ages 12-15
Recommended for: ages 16-up
Lucy Maud Montgomery's first tragedy occurred before she was fully aware of it, when her mother died of tuberculosis.  Grief-stricken, her father soon abandoned the little girl to her dour maternal grandparents, who had no idea what to do with a lively, imaginative child.  As a result, her early years were intensely lonely, with no one but imaginary friends in china cabinets to talk to.  Brighter days followed as she went to school and widened her circle of actual friends.  Beaux, too; many young men were attracted to the slender young lady with the beautiful hair, and she turned down her first marriage proposal at age 17.  Several others followed, but the one young man she fell passionately in love with was already engaged to someone else.
Finally, in her thirties, after achieving some success as a writer, she settled on Ewan McDonald, a Presbyterian minister—even after vowing she'd never be a minister's wife.  The marriage was not blissful and after a few years Maud and her husband were taking turns struggling through periods of deep depression.  One stillborn son, another who didn't turn out well, several friends who died young, and two World Wars sank the once-vibrant Maud—on April 24, 1942 she was found dead in her bed, and coronary thrombosis was the stated cause.  But in 2008 her granddaughter revealed that the beloved writer had probably taken too many pills.
The revelation caused quite a stir in the literary world, and casts a pall over this biography.  I wouldn't recommend fans under 16, or perhaps even older, picking it up.  But even so, there are many positives here: of a vibrant and gifted young woman overcoming straightened circumstances—both emotional and financial—to give the world one of its most beloved literary figures.  In that light, her most famous novel was a triumph: "Maud performed the great alchemy of art.  She transformed her own history of abandonment into a story of rescue."  Written in a rush, typed on an ancient typewriter that wouldn't print the letter w (Maud had to fill those in by hand),  rejected by several publishers, accepted just before the author was ready to put it away—Anne of Green Gables is one of those fairy-tale publishing stories that make hearts sing.
Like most lives, L.M. Montgomery's was full of disappointment, but also warm friendships, natural beauty and moments of heart-piercing joy.  Perhaps the great tragedy in her upbringing was that it did not include the grace of Christ.  Her Presbyterian family exhibited all the worst outgrowths of Calvinism, none of its glories.  Though she was involved in church all her life, when her world turned dark there was no light shining beyond it.
The best biographies increase not only our understanding of the subject, but also of their world, and even more of humanity as a whole.  Though ultimately sad, Maud's story is one of those.  One quibble: the illustrations that accompany each chapter are charming and suggestive of the time period, but the author describes so many photographs I wish I could have seen some.
Cautions: Worldview (Maud embraced an unbiblical spirituality in mid-life)
Overall Rating: 4.25 (out of 5)
Worldview/moral value: 4
Artistic value: 4.5
Please follow and like us: