The Sky at Our Feet treats the immigration issue fairly and compassionately, through the perspective of an Afghan-American boy on the run.  Ages 10-15
*The Sky at Our Feet by Nadia Hashimi.  Harper, 2018, 291 pages.
Reading Level: Middle Grade, ages 10-12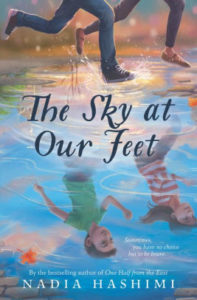 Recommended for: ages 10-15
Even though his mother calls him by his Afghan name—Shah, or "my king"—Jason D feel as American as anyone in his class.  Until the evening he learns that his mother is in the USA illegally.  Only a few days later, a pair of cops come to the laundromat where she works.  Jason isn't in on their conversation, but when, overcome by fear and confusion he sees the police take his mother away in a patrol car, he runs away.  She warned him this could happen—for all he knows she'll be on the next plane to the other side of the world.  All he can think to do is find their one friend, his honorary Aunt Seema, who lives in Manhattan.  That's a fearful journey for a New Jersey boy, but he makes it as far as Penn Station.  There, his high state of stress leads to an accident, which lands him in the hospital as an anonymous patient with a concussion.  But there his luck begins to turn when he befriends a intriguing girl named Max.  Max is a certified genius—just ask her—and once she hears Jason's story she is determined they should break out of the hospital together.  And so they do, with all of Manhattan before them and an impending Amber Alert at their backs.
Jason D is a winsome blend of wisdom, courage, fear, and naiveté, who carries the story with a light but profound touch.  Max is a worthy companion, with her own strengths and fears.  Their journey of close calls and unexpected joy is truly gripping and suspenseful, with just enough humor to stay out of gloom. Our confused and confusing immigration policy is a theme (with no bad guys), but the appeal is universal.  Jason is questioning what kind of person he is, while Max fears she'll lose what she already knows.  All ends well, and a reader should close the book feeling not just satisfied but grateful.   As Jason's mother says, "You can find all colors in the sky.  The sun, the moon, the stairs, and the clouds—it has room for the all.  That's why I love this country, my king—It is like the sky at our feet."
Cautions: Worldview (Jason is assumed to be Muslim, though not anti-Christian–he appears to see no serious conflicts between religions)
Overall Rating: 4.75 (out of 5)
Worldview/moral value: 4.25
Artistic value: 5
Please follow and like us: