The latest addition to the "Guts and Glory" series is a readable and engaging history of the American Revolution for middle graders.  Ages 10-15
The American Revolution (Guts and Glory #4) by Ben Thompson, illustrations by C. M. Butzer.  Little Brown, 2017, 320 pages including appendix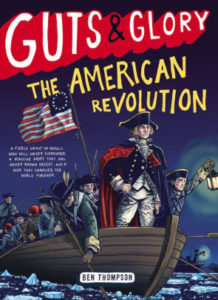 Reading Level: Middle grades, ages 10-12
Recommended for: ages 10-15
Over two hundred and forty years ago, a shooting war broke out between Great Britain and her unruly colonies across the ocean.  The events that followed were as dramatic, improbable, and consequential as anything that ever happened in history (except for a certain Resurrection)—if nothing else, a great story.  It's also a story we're on the verge of forgetting.  The latest entry in the "Guts and Glory" history series (after The American Civil War, The Vikings, and World War II) tells that story in a way that's comprehensive and mostly compelling.
Starting with the growing dissatisfaction of Sam Adams and the Sons of Liberty, the author takes six chapters to get to the actual Declaration of Independence and the birth of a new nation.  A lot of stuff happened before then, including Bunker Hill, George Washington, and the invasion of Canada.  Even more happened after, but the rush of events are told in a swift, clear narrative, with pen-and-ink illustrations, original documents, biographical sketches and sidebars.  I like the design—the sidebars don't break up the narrative but occur at the end of each chapter, where they're less distracting.  My main complaint is that the tone is a little too casual.  A friendly tone is fine, but "[Common Sense] was like an ultimate rap battle about why kings suck and people should get rid of them" might be so casual it's slumping on the floor.
Elsewhere, the new nation is described as a "democracy" rather than a republic (though in 1776 neither was plainly defined).  The Enlightenment gets most of the credit for shaping revolutionary ideas, when actually Enlightenment ideals were tempered by traditional Christianity.  But unlike left-leaning histories of the last 20 years, this narrative ends with unequivocal endorsement of America and her best ideals.  The Revolution was a good thing.
Cautions: Language (a few instances of mild vulgarity, like "crap" and "sucks")
Overall Rating: 3.75 (out of 5)
Worldview/moral value: 3.5
Artistic value: 4
More than 75 books for children and teens, all about islands, oceans, and more. Bonus: get a free hand-drawn reading tracker!
Reading Ahead for You
Reviews and Resources Weekly in Your Inbox