Near the end of his prolific career, Newbery medalist Sid Fleischman published remarkable biographies of three remarkable men.
Samuel Clemens (a.k.a. Mark Twain, 1835-1910), Ehrich Weiss (a.k.a. Harry Houdini, 1873-1926) and Charles Spencer Chaplin (1889-1978) shared little in common except an outsized persona, a talent for entertaining audiences, and lifespans that overlapped in interesting ways.  Houdini was born when Mark Twain was writing his first novel, about a boy named Tom Sawyer.  Chaplin was born just before Houdini began a stage career that would make his name a household word.  And Sid Fleischman was born the year Chaplin released his first film masterpiece.
A Fleischman fascination with all three men had personal roots.  He had grown up laughing at Chaplin's comic quirks on film, had longed to be a magician in the Houdini mold, and admired Twain's prose style so much he adopted it for some of his tall-telling children's books like the McBroom series.  Still, as he writes in one of his prefaces, "Choosing a subject for a biography may be as perilous or as charmed as a marriage.  A writer chooses with fingers crossed"—because he's going to be spending a lot of time with the subject.  When writing for a young audience a biographer has a further choice to make.  He can provide a wide-lens, comprehensive view of the subject, beginning with "___ was born . . ." and ending with "____died . . ."  Or he can focus on a certain time period, aspect, or personality quirk, and make the rest peripheral.  Fleischman chooses the latter, picking what interests him while lightly passing over what doesn't.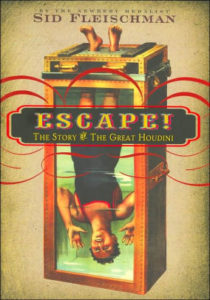 Another choice for the biographer: Do I cover my subject more or less dispassionately, or let my enthusiasm loose on every page?  Guess!
Fleischman (1920-2010) had a distinctive writing style, and these biographies are not your standard "He was born/he died" narratives.  For Escape! The Story of the Great Houdini (Greenwillow, 2006), the author occasionally performs the signature escape trick of his subject in reverse: he squirms into the story with his own recollections.  The immigrant kid from Hungary immersed himself in illusion from an early age.  In the same way, young Sid fed  on a steady diet of magic books while growing up in San Diego.  Escape! captures that boyhood fascination with showmanlike flourishes ("With a twirl of his waxed mustache, the impresario hired them for a week").  Also details, like Harry in his early stage career, plugging the gaps between paychecks by taking a turn as a WILD MAN! in a cage.
The Trouble Begins at 8: A Life of Mark Twain in the Wild, Wild West (Greenwillow,
2008) focuses on the years that turned Sam Clemens into Mark Twain: in particular, the time spent prospecting and journaling in Nevada and California.  His professional career as a writer actually began on the stage, touring boomtowns settlements as a professional raconteur.  In the process he developed a storytelling ability and turn of phrase that would lead to the invention of a distinctly American literature.  Anyone susceptible to the Twin style will swoon at Fleischman's echoes of it, such as his description of "the man-eating Great Salt Lake Desert, a carnivore with notorious bad table manners."  Then there are coinages like "humbugability" and observations worth chewing on, such as "Joy was not the raw material of humor,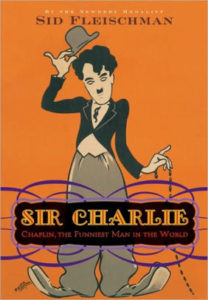 Twain was to discover.  The dark source was sorrow."
That's a lesson Charles Chaplin learned early, and his own brand of humor drew deeply from the wells of abandonment.  (Sir Charlie: Chaplin, the Funniest Man in the World, Greenwillow, 2010)  The adults in his childhood weren't there for him; his mother was mentally unstable and his father—or was that man his father?—physically absent for much of his early life.  But the boy possessed some unique talents that bloomed on the London vaudeville stage and got him a free ticket to New York City.  Once in the States, he felt success in his bones: "'This is it!' he told himself. 'This is where I belong!'"  Actually, California was where he belonged, specifically Edendale, a suburb of Los Angeles, where the film pioneer Mack Sennett was cranking out one-reel comedies by the boatload.
The rest, as they say, is history, and history seldom produces uncomplicated endings.  Fleischman doesn't sugarcoat Twain's religious skepticism and later bitterness.  Or Houdini's tendency to exaggerate or gild the details of his life.  Or Chaplin's two shotgun weddings and eventual disenchantment with America (at the time, the feeling was mutual).   Even in the midst of success and fulfillment, all lives are to some degree unfulfilled–especially without Christ—and certainly not altogether admirable.  But life bursts through the canvas, and any reader will close the biographies with a sense of the multi-dimensionality and uniqueness of these particular lives.
More than 75 books for children and teens, all about islands, oceans, and more. Bonus: get a free hand-drawn reading tracker!
Reading Ahead for You
Reviews and Resources Weekly in Your Inbox