In this lively novel, a recently-orphaned girl finds "hope and a future" in the midst of poverty and bereavement.  Ages 10-14.
*Hope in the Holler by Lisa Lewis Tyre.  Nancy Paulsen Books (Penguin/Random House), 2018, 209 pages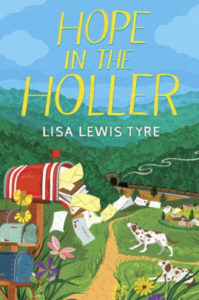 Reading Level: 10-12
Recommended for: ages 10-14 (8 to 14 as a read-aloud)
Wavie Conley and her mother didn't have much, but when Mama was in the last stages of cancer Wavie realized how much she was losing.  And it's even worse after the funeral, when a hitherto-unknown Aunt Samantha Rose shows up with her pimply son Hoyt and claims guardianship.  Conley Holler, Wavie's new home, is even more run down than the trailer park she came from, and Samantha Rose's disposition is even worse when she's not trying to impress the social worker.  Very soon it's clear to Wavie that her aunt sees her mostly as 1) a monthly Social Security check and 2) unpaid labor.  A court judgment is all it'll take to make this unhappy arrangement legal.  There's some consolation in her new friends, smart-as-a-whip Camille and smart-alecky Gilbert.  Wavie also makes an effort to bloom where she's planted, literally (having her mother's gift for planting flowers).  Still, the future for the next eight years doesn't look bright, until family secrets slowly uncovered reveal a possible way out . . .
The narrative moves quickly and the dialogue sparkles.  Though Wavie doesn't have much in the way of material possessions, she has a spiritual heritage from her mother and a repertoire of Bible passages, such as Jeremiah 29:11 (the one about "hope and a future," from which the title is taken).  She suffers understandable bouts of gloom and doubt without alienating the readers, who will sympathize with her and yet know she has enough love stored up from her mother to be okay, even if she's stuck with her aunt.  There are enough supportive adults to offset the terrible Samantha Rose and the ending—though perhaps a little too sunny—is satisfying.
Cautions: Violence (one incident)
Overall rating: 4.75 (out of 5)
Worldview/moral value: 5
Artistic value: 4.5
Please follow and like us: