Secret Sisters of the Salty Sea is a beach vacation between two covers, told from an artless childlike perspective.  Ages 7-10
Secret Sisters of the Salty Sea by Lynn Rae Perkins.   Greenwillow, 2018, 323 pages.
Reading Level: Middle Grades, ages 8-10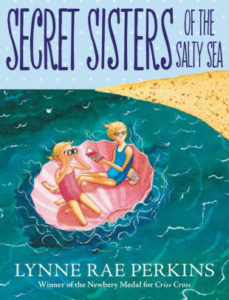 Recommended for: ages 7-10, or 6-10 as a read-aloud
The Treffreys are packing up for their very first beach vacation—actually, their first vacation that's not to visit relatives.  The girls, Alix and Jools, expect palm trees and turquoise water and maybe even hula girls in grass skirts. They have lots of imagination but the ocean amazes and delights them—after only one evening and sunset, their favorite beach ever.  And that's just the beginning: they have a whole week of discovery ahead: June bug claws and periwinkle hunting, sand castles (of course!), tides, new friends, sea glass and sea gulls.  Even the boring places turn out to be interesting, and a walk up the beach with Dad can be epic.
There's a lot the reader doesn't know: where the Treffreys live, where the beach is (somewhere along the north Atlantic), what their parents do for a living, even how old the girls are (6 and 8, I think).  When you're a child the moment means more than the backstory—or the plot.  Secret Sisters doesn't have one—no mystery, tragedy, or problem to solve.  The perspective is childlike and aimless, but when you think about it, vacations are not about the plot.  They occur in dreamlike randomness, and when it's time to go home we roll them up loosely and tuck them in memory.  The outlines fade as the sensations remain, and we were somehow changed though we can't say how.  This book will remind you of your first beach vacation, even if you never experienced one.  (The illustrations by the author add another layer of enchantment.)
Cautions: None
Overall rating: 4.5 (out of 5)
Worldview/moral value: 4
Artistic value: 5
Please follow and like us: