A fun romantic read for Jane Austen fans, A School for Brides is also very positive about marriage.  Ages 12-18 
A School for Brides by Patrice Kindl.  Viking, 2015, 250 pages.
Reading Level: Young adults, ages 12-15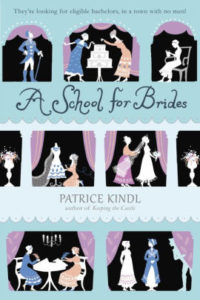 Recommended for: ages 12-16 (especially girls)
Winthrop Hopkins Female Academy in Lesser Hoo, Yorkshire, exists to "finish" young ladies prior to marriage to eligible young men.  The problem is, there are few young men of any kind in Lesser Hoo, much less eligible ones.  But fortune appears to smile when Mr. George Arbuthnot, on his way from somewhere to somewhere else, takes a nasty fall off his horse and breaks a leg.  He takes lodging to recuperate at the nearest dwelling, which happens to be a quiet room in the Female Academy.  There the doctor will attend him and gentlemen friends will visit—problem solved! Not only quality young men, but a quantity of them.
As in Keeping the Castle, the author writes with conscious and affectionate Austenian wit.  There will be a lot of pairing-off, but not always who we expect, and the course of true love (or at least conjugal affection) doesn't run smooth.  But it's all in good fun and increased vocabulary—and, in its wry and sensible way, very positive about marriage: "A happy marriage confers a great advantage upon all members of the union: the wife, the husband, and any children in their care."
Cautions: None
Overall rating: 4.25 (out of 5)
Worldview/moral value: 4.5
Artistic value: 4
Please follow and like us: