With My Hands, a poetry collection for ages 5-10, celebrates the endless creativity of humans from the earliest ages.
With My Hands: Poems about Making Things by Amy Ludwig VanDerater, illustrated by Lou Fancher and Steve Johnson.  Clarion, 2018, 24 pages.
Reading Level: Picture Book, ages 4-8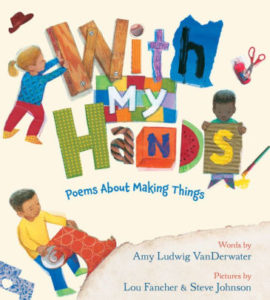 Recommended for: ages 5-10
A maker creates something new/ that never was before.  The pages after this opening poem celebrate the things we make: not just the "artistic" kids, but all kids.  Not just painting and modeling but greeting cards, sock puppets, cookies, forts, shadow pictures—and messes.  Not just "art," but useful things and playthings, throwaways and keepsakes.  Maybe even poetry.  The examples in this picture book show different forms and styles, rhyming and unrhyming.  For example, "Parachute":
I cut a parachute from plastic,

tied my guy on with elastic,

threw him from a window (drastic),

watched him drift to earth—fantastic!
The artwork is likewise various: sketch lines, mixed-media drawing, thumbprints and collage.
What's missing is a sense of where we get this ability.  We make, of course, because we're image-bearers of our Maker.  One poem about paper snowflakes implies that someone is making real snowflakes—but who?  I wish that I could meet the girl/ who snips real snowflakes out of white./ Her scissors must be very small./ Her dancing hands snip through the night.  But except for that weird flight of fancy, With My Hands is an inspiration and encouragement to make use of our endless abilities to create.
Cautions: None
Overall rating: 4 (out of 5)
Worldview/moral value: 3.5
Artistic value: 4.5
Reading Ahead for You
Reviews and Resources Weekly in Your Inbox