The life-paths of Martin Luther King and James Earl Ray converge on a fatal day in Memphis, in this gripping account of a manhunt. Ages 10-15
Chasing King's Killer by James L. Swanson.  Scholastic, 2017, 255 pages plus 109-page appendix.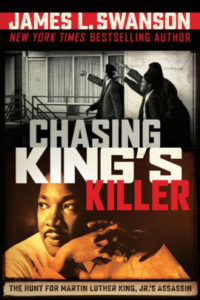 Reading Level: Middle Grades, ages 10-12
Recommended for: ages 10-15
Though the title is specific to one two-month period, the narrative takes in two lives: that of an unremarkable, nonviolent petty criminal from a poor white family, and that of one of the most recognizable, honored, and vilified men of his time.  Martin Luther King was born into a respected Atlanta family, with every advantage except his color.  Like most black children in America, he received "the talk" when he was of an age to understand how he would be treated in the segregated south.  His response, during his teen and early-adult years, was anger.  He was well on his way to hating as he was hated, until he encountered the notion of passive resistance as taught by Ghandi in India.  That, together with the Christian faith he inherited, convinced him that peaceful protest was the way to go.  The Montgomery bus boycott brought him to national attention and made him a leader of the civil rights movement.  A strange incident in 1959 might have created his later premonitions of untimely death: while signing copies of his first book at a New York department store, an unbalanced black woman approached and stabbed him in the chest with a penknife.  So near his heart, as he told it later, that a sneeze would have killed him.
Meanwhile, James Earl Ray was growing up in Missouri with no advantages except skin color, which enabled him to pass through society unremarked.  We don't know why he decided to kill Dr. King, but the deed was carefully planned and if it hadn't been for a few thoughtless mistakes, he might have got away with it.  Part 4 is "The Chase," an engrossing tale of clues, oversights, missed opportunities, and lucky breaks.
The story is highly readable, with full credit given to King's religious faith.  A very extensive appendix includes an annotated bibliography for those who would like to know more.  We know King's motivations, but do we really know so little about Ray's?  He wrote a memoir, which the author quotes liberally, but it appears that secret died with him.
Cautions: Violence (not graphic, but necessary descriptions of blood)
Overall Rating: 4.5 (out of 5)
Worldview/moral value: 4.5
Artistic value: 4.5
Please follow and like us: