Here's a fun pie cookbook to help you recreate some of the vintage pies described in older literature and in your history books!
Vintage Pies: Classic American Pies for Today's Home Baker by Anne Haynie Collins. Countryman Press, 2014. 159 pages.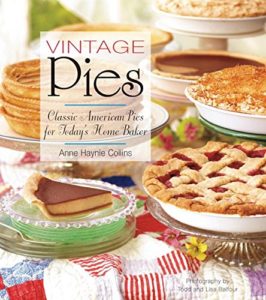 Have you ever read an old book, like Little House on the Prairie, Farmer Boy, Anne of Green Gables, or Betsy-Tacy, and noticed all the baking?  How about all the pies?  I know some meal descriptions have left me hungry!
Now's your chance to recreate history with some "vintage" pies!  This cookbook is downright fun with mouth-watering pictures, interesting descriptions and simple recipes. The author, Anne Haynie Collins, carefully researched each pie. Her method? Talking to elderly people and recreating their favorite pie, remembered from childhood!
Not only is this a fun book to read, you can now try your hand at baking some of the pies you've met while reading.  The cookbook is divided into sections for transparent, custard, cake, cream, and fruit pies, so there are many to choose from, from plain apple or peach to the more unusual: vinegar to shoofly, raisin to boiled cider, and many more.
I've made the Bob Andy custard pie with success, but I came to grief with the Funny Cake pie. Learn from my mistake and do NOT use blackstrap molasses. I blithely disregarded the author's caution, and the resulting heavily flavored black pie will go down in infamy . . .
Most pies in the cookbook, however, are made with common pantry staples since practical housewifes of yesteryear couldn't afford luxury ingredients in their daily baking.
If there's a baker in your house, or anyone with a sweet tooth, this cookbook is well worth tracking down. I ended up buying it and, Funny Cake calamity notwithstanding, I look forward to baking more vintage pies!
For some fun picture books all about pie, see Betsy's round-up of pie-themed picture books.

Please follow and like us: