God's Timeline is a valuable resource that pulls together the entire sweep of church history from the Resurrection to the early twenty-first century.
*God's Timeline: the Big Book of Church History by Linda Finlayson.  Christian Focus, 2018, 79 pages plus foldout chart.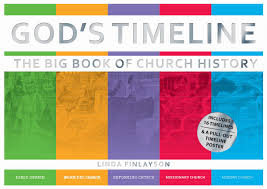 Reading Level: Middle grades, ages 8-10
Recommended for: ages 8-up
How many times have you wished you had a good resource for church history that pulled it all together for children just beginning to learn what "history" is?  We've published several church history booklists (see for instance here and here and here), but have found no books that provide the full sweep of church history for kids.  This one does—hurray!
To help young minds get the whole picture, the history is divided into five distinct periods, each with its own color: Early Church, Medieval Church, Reforming Church, Missionary Church, and Modern Church.  The scheme also employs symbols for councils (particularly in the early days, but on up to the modern era), Creeds and pivotal Statements of Faith, monarchs and martyrs.  Each major period is introduced, followed by the timeline that travels left to right and back again over a double-page spread.  Small illustrations add both interest and attractiveness.  In between the timelines are short, informative articles about important developments in church history, such as "How We Got Our Bible," "What Is Islam?," "The Five Solas," "Going into All the World" (19th century missionaries), and "Modern Martyrs."  Many of the events on the timelines are simply noted with little or no exposition, so this book doesn't do away with standard biographies and histories. But once you know what to look for, further information is easy to find.
One small caveat: the earliest dates in church history are difficult to pin down, but most historians agree that Jesus was not born in Year Zero, but probably 4-6 years before (they calculate this by the accepted date for the death of Herod the Great which, according to Matthew 2:19, occurred when Jesus was 3-5 years old).  That would put Jesus's death and resurrection somewhere around 28 A. D., but God's Timeline places those events at 33 A.D.   Later dates, such as the destruction of Jerusalem in 70 A.D., are not in dispute, so after that the timeline is on track.  Also, since the book is published in Scotland, the reader will encounter British spelling conventions for words like saviour and favour.  Not a big drawback, for a book that should be in every Christian family's library. As a bonus, a sturdy foldout chart is included, which can be easily detached and displayed on a wall or bulletin board.  A "Who's Who" chart on the other side places outstanding Christian heroes (and villains) in their respective time periods.
Cautions: None
Overall Rating: 5 (out of 5)
Worldview/moral value: 5
Artistic value: 5
Reading Ahead for You
Reviews and Resources Weekly in Your Inbox