We're posting our best guesses for the 2018 ALA Youth Media Awards just a half hour before the awards ceremony begins. And then I (Betsy) will be reporting back on the results as soon as they're in! We'll see how we did…
Janie predicts: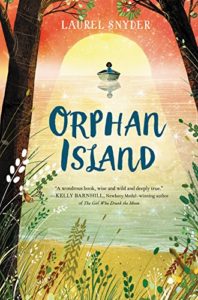 as usual, I not going to state an order or preference or my pick for the gold:
One Last Word by Nikki Grimes.  Beautiful poetry, strong illustrations, minority representation.  My only qualm is that I can't see it having a wide readership.  But that never stopped Newbery committees before!
Orphan Island by Laurel Snyder.  Nostalgic, beautifully written, will be seen as "empowering," perhaps.
Refugee by Alan Gratz.  Politically relevant and multicultural. it offers the committee a chance to make a pro-immigration (anti-Trump?) statement, and they may not be able to resist.
The Stars Beneath Our Feet by David Moore or  Clayton Byrd Goes Underground by Rita Williams-Garcia.  I confess I haven't read them, but they seem to have a similar theme and hit similar buttons.
Tumble & Blue as a wild card.  It's unique, and Cassie Beaseley got no ALA attention for Circus Mirandus, so maybe it's her turn.
What would I like to see on the list?  The Vanderbeekers of 141st St., of course!  And it would be nice to see the committee stop worrying about relevance and let the kids have some fun with I'm Just No Good at Rhyming.
Betsy:
Like Janie, I don't rank my predictions, either!
One Last Word by Nikki Grimes. Unique and distinguished in all the right ways: format, sheer skill, theme, diversity, and more! I rarely come out and say "this book is a guarantee," but I do think One Last Word will earn something. If not a Newbery, then perhaps some Coretta Scott King love or even a Printz. (The last time I thought a book was a guarantee was Inside Out and Back Again… and I was right!)
Non-traditional format: I think either All's Faire or Real Friends could get some attention, but I doubt that two graphic novels would earn a mention. I think All's Faire is a stronger contender, but Real Friends has been getting a lot of buzz.
Wild Card: I'm Just No Good at Rhyming. PLEASE, Newbery committee, pick something FUNNY!! This title, incidentally, won the Heavy Medal Mock Newbery. We can hope it earns some actual Newbery love!
Picture Books: Caldecott (and others):
After the Fall by Dan Santat is darling, has a terrific message, and is quite well done. It's been getting plenty of buzz, too.
The Watcher by Nikki Grimes and illustrated by Brian Collier could get some attention (perhaps by the CSK committee, if not the Caldecott). The theme is bullying, and Collier's collage illustrations are very well done.
How to be an Elephant by Roy is a nonfiction book that I think could get some Caldecott attention. It's also a good candidate for a nonfiction award like the Sibert.
The Little Red Cat Who Ran Away and Learned His ABCs (the Hard Way) by Patrick McDonnell is so very clever and delightful. It may get a mention come Monday.
A Different Pond by Bao Phi is stunning in its understated palette and deceptive simplicity. It also nods to a politically correct theme: immigration and how hard immigrants must work to put food on the table. I wouldn't be surprised to see a book like this get a mention.
Megan:
If I were on the Newbery committee, I would argue hard for these:
The VanderBeekers because it is so charming and would make a great read or read-aloud
The Watcher because it is a difficult form of poetry applied to a difficult real-life situation and shows kindness without neatly tying up all the loose ends.
Jabari Jumps. I love the father's support and encouragement, just waiting for his son to be brave and do something hard. This is a nicely-done, simple story that is relatable.
One Last Word because it doesn't deal lightly with hard things; it is hopeful and beautiful. I have a new admiration for both the Harlem Renaissance poets and Nikki Grimes.
Frankly, my list is very not-white! I love that diversity doesn't feel forced or obligated, just beautiful.
You heard it here first, readers! Stay tuned for the actual results…
Please follow and like us: