In Piecing Me Together, a Newbery honor book, a black teen in a low-income neighborhood carves out a place in the world through art and mentorship.  Ages 12-15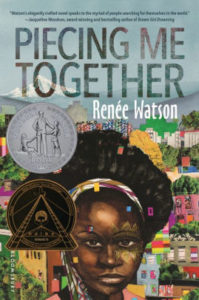 Piecing Me Together by Renee Watson.  Bloomsbury, 207, 261 pages.
Reading Level: Teen, ages 12-15
Recommended for: ages 12-15
"The only thing fancy about me is my name: Jade. But I am not precious like a gem.  There is nothing exquisite about my life. It's mine, though, so I'm going to make something of it."  That's an admirable goal, and Jade has the brains and talent to make better than "something" of her life.  The negatives are there, too: she's black, she's female (and on the heavy side), and she's poor.  The only child of a single mom with a dead-end job, Jade lives on the north side of Portland and rides the city bus every day to St. Francis School.  She has a scholarship and her mother insists she take advantage of it.  Jade agrees in principle but it's hard to engage when she misses her friends from the old school and can't find her place at the almost-all-white one.  Nor is she excited about the program she's invited to join, a mentorship called Woman to Woman–especially when she has reason to doubt the motives of the mentor matched to her.  But this will be the year it begins to come together: new friends, new opportunities, and the first tenuous steps toward a new life.
The word is never mentioned, but Jade is a picture of "intersectionality": the struggles of being black intersect with the struggles of being female. Though the concept is too politicized (like so much else), I got a better understanding of it by spending time with this character.  Unlike The Hate U Give, no cataclysmic event shapes the plot.  As in a collage, her favorite art medium, snippets of history, home life, friends, and old and new experiences come together to make her a different person at the end: confident, assured, and more accepting of herself and others.  Art is Jade's way of "piecing herself together"; though prayer is mentioned, faith doesn't seem to have a big claim on her life.
Cautions: Language (a few misuses of God's name)
Overall Rating: 3.5 (out of 5)
Worldview/moral value: 3.5
Artistic value: 3.5
More than 75 books for children and teens, all about islands, oceans, and more. Bonus: get a free hand-drawn reading tracker!
Reading Ahead for You
Reviews and Resources Weekly in Your Inbox