A fun middle-grade series mixes classic mystery elements with wacky situations and wordplay.
The Real McCoys by Matthew Swanson and Bobbi Behr.  MacMillan Imprint, 2017, 323 pages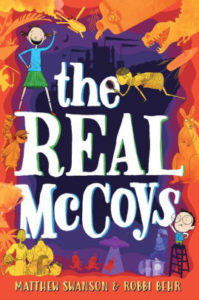 Reading Level: Middle grades, ages 8-10
Recommended for: ages 8-12 (with cautions)
As winter break at Tiddlywhump Elementary School approaches, Moxie McCoy has two goals: to become a #1 detective, like her fictional hero Annabelle Adams, and to find a replacement for her best friend Maude, who moved to California.  This dynamic duo was a problem-solving super-team with Maude's analytic skills and Moxie's . . . well, moxie. Emily Estevez, the nicest girl in fourth grade, might be a suitable substitute, but Moxie is distracted from the search by a genuine mystery.  Someone stole the school mascot, Eddie the (stuffed) owl!  No sooner is Moxie on the case than her investigation runs afoul of Principal Jones.  Ms. Jones is rumored to keep a tank of toothless eels in her office for correcting discipline promise—or you could be tied to a chair and forced to listen to the school secretary read aloud from the P section of the Oxford English Dictionary.  One more trip to the Principal's office and it's eel time for Moxie!  She could sure use a partner to rein in her rambunctious instincts.  But what if the right partner is right under nose?  Like, way under—namely her quiet, thoughtful little brother Milton?
The format of this wacky little mystery is somewhat like a notebook novel (Wimpy-Kid style), lavished with sight gags and word art and laugh-out-loud funny stuff.  Any metaphor is likely to be illustrated (such as "Hope flickered in Milton's eyes" in the form of the letters HO PE spelled across his huge glasses).  The author-illustrators are a husband/wife team who must have tons of fun dreaming up plotlines and pictures.  Among the goofiness they pack a suspenseful mystery and some nice observations about valuing the members of your family—even little brothers.  More Moxie is on the way, in what would be a swell series except.  In one conversation, Emily Estevez drops a casual mention of her dads.  Since further adventures promise an increased role for Emily, readers may well meet Emily's dads.  So be advised.
Cautions: Worldview (passing mention of same-sex parents)
Overall rating: 3.75 (out of 5)
Worldview/moral value: 3.5
Artistic value: 4
Real McCoys, mystery, middle grade, humor, Matthew Swanson, Bobbi Behr, school, Christian book review
Please follow and like us: