Reading Goals for the New Year
It's that time of year, folks! Everyone is making resolutions and goals for the New Year. I used to make resolutions, but a few years ago, I switched to making goals. Goals are more concrete and force me to think through specifics a bit more than the vague resolutions I'd been dreaming up previously.
For example, a "resolution" might be: I will eat better and exercise more in 2018. A "goal" would be: I will lose 10 pounds by next Christmas. Goals can be habit driven, as well. There, the difference is a subtle one, but no less helpful. You might resolve to read more in 2018. Or, you might set reading goals: I will read 1 book a week. Or, I will read 15 minutes every day. Or, as a family, we will read all of The Lord of the Rings this year.
Personal Reading Goals
I'm not one of those people who needs to read more. After all, I'm a professional reader! But I do want to be better at tracking what I read. I want to find time to read books that aren't "required" (i.e. books I don't need to review or need to read for an award committee). And I want to ensure that I'm reading a variety of books.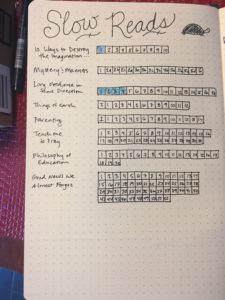 So, here are the reading goals of this professional reader:
Commit to the "Grand Slam" Level of our 2018 Reading Challenge (some good diversity built into that list! And, the "old" books category will be helpful as I try to tackle some classics that have long been on my personal To Be Read list)
Record everything I read in my Bullet Journal (I've used a BuJo off and on for years, but I used to record everything I read on Goodreads. Lately, I've found myself shifting more and more to paper recording).
Set up (and use) a "Slow Reading" tracker: for some of the meatier books or books that I will read over a long span of time, I set up a chapter tracker. This way, I can see my progress reading through books like The Good News We Almost Forgot, which will take me a full year (1 chapter/week)! I've committed to reading several "slow reads," some with other people, so this should help me keep up with that.
Already Making Progress (or, How to Use the 2018 Reading Challenge)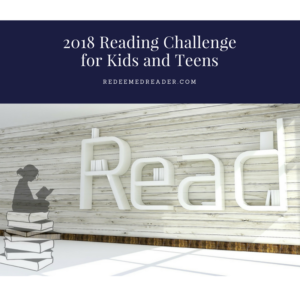 It's only the first week of January, but I've already made some progress! I read (and thoroughly enjoyed) Iraneus by Simonetta Carr yesterday. And I realized: this is a biography! (check) AND it's about someone who lived more than 500 years ago! (check) AND it's a "new" book (published last year)! (Check) I can't use the same title for each of those categories on the reading challenge, so I'm noting it by the "biography of a person who lived more than 500 years ago" since I'm more likely to read books that fit the other categories in the days to come. If I need to, I can move the title to a different category later!
I also read Revolutionary Rogues by Selene Castrovilla. This picture book also fits a number of Reading Challenge categories. I made a note by the biography and picture book categories and will move it around as needed.
I'm halfway through Jasper and the Riddle of Riley's Mine by Caroline Starr Rose (historical fiction!) and with There's No Such Thing as Bad Weather by Linda McGurk (a book recommended to me). I think of everything I read in terms of reading challenge categories these days.

Habits are Key
Just as the habit of reading is key, so is the habit of tracking what you read (if that's a goal of yours). I'm already in the habit of reading, but I need to rebuild the habit of tracking what I read. I've made sure to check off these early reads in an effort to start building that habit (I started the reading tracker in December, so I cheated a little). I've also read a few chapters that I can check off on my slow reading page from A Long Obedience in the Same Direction, which I'm reading with a friend. I'm trying to be diligent in tracking right from the start!
What are YOUR reading goals for the new year? What sort of progress have you made? Do you track your reading on any particular platform?
as usual, all amazon links are affiliate links–thanks for your support!
Reading Ahead for You
Reviews and Resources Weekly in Your Inbox