Future astronauts will find many of their questions answered in this comprehensive, informative picture book, with fascinating cutaway illustrations.  Ages 8-12
Exploring Space: from Galileo to the Mars Rover and Beyond by Martin Jenkins, illustrated by Stephen Biesty.  Candlewick, 2017, 54 pages plus index, glossary and timeline
Reading Level: Middle grades, ages 10-12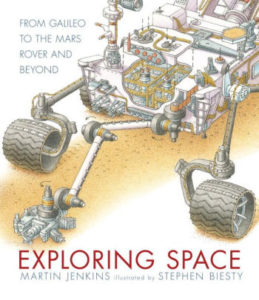 Recommended for: ages 8-14
Starting with our own solar system, Exploring Space shows the hows and whys learning about "the last frontier." The story begins on earth, peering into the sky through ever-more sophisticated telescopes.  Then, "Getting into Space" by rocket propulsion (featuring the race between the USA and USSR).  Next we look at "Coming back to Earth" via the space shuttle, and "Surviving in Space" on the International Space Station (ISS).  Almost everything a future explorer would want to know is addressed, including how to dress for a spacewalk, how to exercise in zero gravity, and (of course) how to go to the bathroom.
What about "Beyond"?  The data sent back by Voyager I and II have expanded our knowledge of our own solar system, but countless mysteries remain.  Further tech breakthroughs may extend our reach.  Exploring Space looks at some of these, like a possible Mars colony and a "space elevator" for getting supplies to satellite stations.  The limits are steep but the possibilities intriguing.  A wealth of information awaits between these oversize covers, beautifully illustrated with clear, detailed drawings.  The text is refreshingly straightforward, with no philosophical (anti-faith) underpinnings.
Cautions: None
Overall rating: 4 (out of 5)
Artistic value: 4.5
Worldview/moral value: 3.5
Talk amongst yourselves...