Poe: Stories and Poems is just as gripping, psychological, and scary in this well done graphic novel format as it is in the original prose.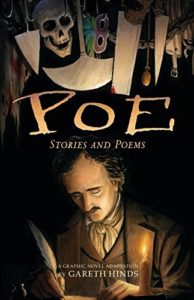 Poe: Stories and Poems: A Graphic Novel Adaptation by Gareth Hinds. Candlewick, 2017. 120 pages.
Reading Level: Teen, ages 12-15
Recommended For: Fans of Edgar Allen Poe, ages 12 and up
Edgar Allen Poe was a master at conveying sinister suspense. His stories and poems linger in the mind long after their final lines. They are not for the faint of heart or the easily spooked (particularly if the reader is all alone in the evening!). This graphic novel adaptation takes some of Poe's most famous works and visualizes them for the reader. Selections include "The Masque of the Red Death," "The Cask of Amontillado," "The Raven," "The Tell-Tale Heart," "The Pit and the Pendulum," "The Bells," and "Annabel Lee." Each is brought to life–sometimes startlingly so–in Hinds's adept illustrations.
A graphic novel version of some of the creepiest stories in American literature has its strengths and weaknesses. Hinds does a remarkable job of capturing the mood and the pacing of the plot. However, any visual representation of a text-based work involves interpretation. This changes the stories slightly, filling in gaps for the reader that the author originally left open. For instance, in "The Tell-Tale Heart," the narrator wonders if he is mad and assures the listeners that he most certainly isn't. Without an image, the reader is left to muse over this question. Hinds pictures the narrator in an old-fashioned mental asylum, thereby answering the question for the reader–or at least making an assumption. Still, the story is just as gruesome and psychological in graphic novel format.
For those who already love Poe, for those who have struggled to "get into" his work in their high school classes, or for those kids who love a good, dark story, this would make terrific Christmas break reading. But note: if you wouldn't read a Poe story aloud to younger children, you most certainly won't want to hand over the graphic novel. This is a book for those already old enough to read and enjoy Poe, not a "young reader" version. All in all, it's an excellently crafted work and is a nice addition to a study of Edgar Allen Poe's works. The illustrations are far superior to those gracing the standard high school literature anthology!
Cautions: graphic images, violence
Overall Rating: 4
Worldview Rating: 3.75
Artistic Rating: 4.25
For other works by Gareth Hinds, see our reviews of his Beowulf and his Romeo and Juliet. Wondering whether Christians should read stories like Poe's? Janie muses over the distinctions between terror and horror and its place for the Christian.
Please follow and like us: