The Pearl Thief is a prequel to the award-winning Code Name Verity, but it lacks the same sophistication and character development.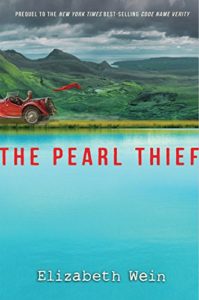 The Pearl Thief by Elizabeth Wein. Disney-Hyperion, 2017. 336 pages. 
Reading Level: Teen, ages 12-15
Recommended For: Teens (not officially "recommended"–note the cautions below)
The Pearl Thief is a prequel to Code Name Verity and Rose Under Fire. Readers meet Julie as a teenager, recovering from a serious blow to the head (literally). Like many teens, Julie is eager to prove herself, is keenly aware of the romantic potential in any situation, and has a flair for drama. Someone has stolen the priceless family pearls, and Julie is determined to figure out who while she is stuck in the old family estate in Scotland for the summer. Code Name Verity fans will be interested to discover the identity of Queenie and learn a bit more about Julie herself.
Unfortunately, The Pearl Thief lacks the same punch we find in both Code Name Verity and Rose Under Fire. The plot meanders a bit, the characters engage in actions that sometimes seem incongruous–particularly for the time period, and the book is too long. I might overlook these issues were the previous two books not such outstanding examples of teen literature. One of the central themes in this volume concerns Julie's coming-of-age. Her sexual explorations are just as much a part of this coming-of-age as is her growing understanding of the types of people in the world. Wein gives Julie the freedom to love and experiment with both boys (including a much older man) and girls (including her new best friend). In some scenes, young girls are roughly treated in a sexual manner (not outright rape, but the scenes are uncomfortable). The Pearl Thief targets a younger teen audience than Code Name Verity and Rose Under Fire, which makes these scenes potentially more troubling to the younger readers. In general, The Pearl Thief lacks some of the sophistication and complexity that made the earlier novels exemplary. All in all, I would recommend simply reading Code Name Verity and Rose Under Fire and skipping The Pearl Thief. Wein's usual talents are not on display in quite the same way in The Pearl Thief, and her inclusion of Julie's sexual explorations puts a different spin on the relationships we see in Code Name Verity and Rose Under Fire. Women can have true friends who operate the way the girls do in the earlier volumes without a prior sexual attraction to one another, and there is no evidence in the earlier volumes that assumes this history between the friends.
Cautions: Sexuality (see above paragraph)
Overall Rating: 3
Artistic Rating: 3.5
Worldview/Moral Rating: 2.5
I received a free advance copy via Netgalley in return for an honest review.
Please follow and like us: