This friendly guide to friendship may help fill in some gaps parents inadvertently miss.
Growing Friendships: a Kid's Guide to Making and Keeping Friends by Dr. Eileen Kennedy-Moore and Christine McLaughlin.  Aladdin, 2017, 170 pages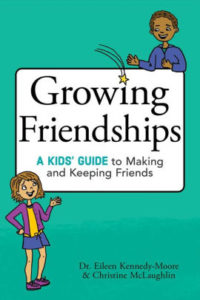 Most of us take friendship for granted: find 'em, be nice to 'em, keep 'em.  But in an age of increasing peer pressure, social media, and mixed signals, it may be harder for young people to master the art by trial and error.  Growing Friendships takes a kid-friendly approach to problems that typically appear in upper-elementary and middle school. What do you do when the one you thought was your best friend wants to hang out with someone else?  Or always wants to play the game you're not very good at?  How do you join a group when you don't know anyone in it? How do you let go of a cross word, a mean look, or a relationship you've grown out of?  And how do you know when it's time to say No?
While the Bible is never referenced, much of the advice is compatible with Christian principles, such as giving others the benefit of a doubt and not holding on to grudges.  Forgiveness gets a nod, too—as a practical expediency, not a theological necessity.  The line-drawing illustrations show kids in typical interaction with several "What would you do" scenarios.  A cartoon dog and cat furnish commentary throughout.  This got a little old for me but it helps keep the tone light and non-threatening.  Growing Friendships could be a helpful resource source for the socially awkward as long as it's understood the advice isn't foolproof.
Cautions: None
Overall Rating: 3.75 (out of 5)
Worldview/moral Value: 3.5
Artistic value: 4
Please follow and like us: