An unusual setting makes this graphic novel a worthwhile perspective on navigating the treacherous waters of those middle years.
All's Faire in Middle School by Victoria Jamieson.  Dial, 2017, 248 pages
Reading Level: Middle Grades, ages 10-12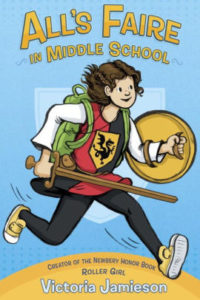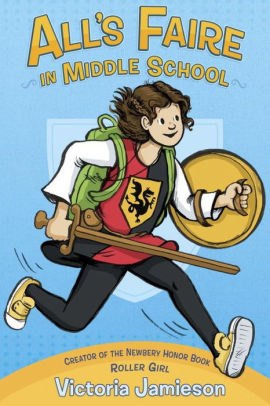 Recommended for: ages 10-14
Imogene has an interesting life as the homeschooled daughter of two Renaissance fair performers.  The family, including little brother Felix, works the Faire for six weekends in the fall; the rest of the time Dad works at a pool supply and Mom makes items to sell.  This year will be very different because of Imogene's promotion to squire and her "promotion" to public school.  It's her choice, and since the grownups aren't very encouraging ("Worst time of my life," etc.), she's both excited and terrified.
After a bewildering first day, Mika, one of the more popular girls, includes Imogene in her circle.  And once Ren Faire starts, she can go back to familiar territory.  Then the wheels start to wobble: Mika picks at her, the boys tease her, an unpopular girl befriends her, and one mishap follows another until Imogene finds herself in serious trouble.  Problems at school lead to problems at home and the poison even spreads to life at the Faire.  Becoming the resident hermit appears to be the only solution.
Jamieson (author of Roller Girl) has a gift for depicting those awkward middle years with humor, sympathy, and perceptiveness.  To Imogene, as to most kids, middle school is a foreign kingdom where the old rules get a new twist and one can't be the same person as one is at home.  Further awkwardness ensues when Mom finds a racy novel Mika slipped into Imogene's backpack, and decides it's time to have "the talk" (argh!).  All's Faire takes place in a secular milieu with a light touch of New Age (owing to the Ren Faire context), but some valuable lessons come through, such as 1) Kindness is strength, and 2) You're not the center of the universe.
Cautions: Language (3 misuses of God's name, all from Mika, one "damn"); Worldview (two New-agey references to crystals); Sensuality (that racy novel)
Overall Rating: 4 (out of 5)
Worldview/moral value: 3.5
Artistic value: 4.5
You may also enjoy two nonfiction books that shed light on the bewildering topic of making friends in middle school: Popular and Growing Friendships.
Support our writers and help keep Redeemed Reader ad-free.