This sympathetic portrait of an autistic youngster explores relationships, coping strategies, and the scientific method.
Superstar by Mandy Davis.  HarperCollins, 2017, 320 pages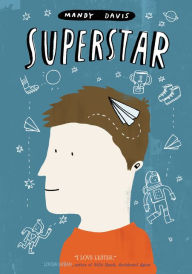 Reading Level: Middle Grades, ages 8-10
Recommended for: ages 8-12
Lester Musselbaum used to live in Florida but now he's in Indiana.  He used to have a father who was a real astronaut, but an accident in space ended that.  And he used to be homeschooled but now his mom is going to have to get a job—which means that Lester will be starting fifth grade at Quarry Elementary School.  It also means trauma, for as the reader soon learns, Lester has some quirks.  The cafeteria noise drives him crazy, as do schedule changes, and he's too attached to the Superman action figure his father gave him, and when his mind seizes on a subject it doesn't let go.  Naturally this raises issues and attracts classroom bullying.
Adult readers will quickly understand that Lester is autistic, but child readers are allowed to discover his condition as Lester does.  Some plot points seem unrealistic: for one, it seems like a NASA widow would have a generous pension.  Some scenes and conversations may stretch out too long for an impatient reader.  Still, it's a sympathetic and enlightening look at a unique personality finding form and function in a world that—however reluctantly at times—makes room for him.
Cautions: None
Overall rating: 4.25 (out of 5)
Artistic value: 4.5
Worldview/moral value: 4
Please follow and like us: