If you are already fans of Sherri Dusky Rinker's delightful bestselling picture book Goodnight, Goodnight Construction Site, you will certainly enjoy the sequel, Mighty, Mighty Construction Site. The hardworking crew awakens refreshed, but they need help to complete a big job. We have featured Ms. Rinker and her books in the past here and here, but she kindly answered a few more questions about her latest book for us this week.
First of all, do you sit and watch construction sites (like my boys do)? I don't any longer (but I would for researches purposes) but, yes, I have spent hours (and hours!) sitting at construction sites with my kids when they were small. My youngest and I would often take a sack lunch and sit in the car where we could get a good view!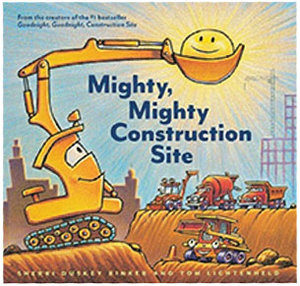 How do you see the machines setting an example of a good work ethic for children? The vehicles are selfless — working for the sheer enjoyment of their jobs and the pleasure of the accomplishment. There's a rather lovely ideal there, I think — about finding one's vocation and pride in one's abilities.
Do you have a favorite character out of the crew? Admittedly, I have a soft spot for Bulldozer; he's so loud, rough and so gosh-darn "boy." Rumbling through and taking down everything in his path… gosh, it just reminds me so much of my sons when they were little!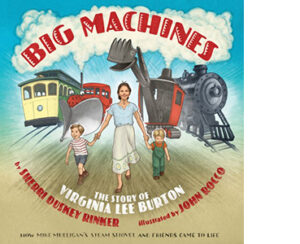 I see you have a picture book biography of Virginia Lee Burton coming out soon. We're definitely her fans too. Any other authors in the past or present who inspire you? I have long lists of authors that I love and admire. In picture books, I think Judy Schachner is absolutely brilliant, and you'd be hard-pressed to find an illustrator with her talent who also writes so beautifully. I also adore J.K. Rowling, Beverly Cleary, Roald Dahl, Kate DiCamillo, Katherine Applegate — so, so many people inspire me (and make me feel hopelessly untalented!).
It can be hard to write a sequel that is as well-done as the original, but I think you did very well! Was it harder to develop a new idea using the same characters? YES! Partly, I think that that difficulty was because the first book came to me so organically and without any pressure at all. When Tom (Lichtenheld) and I were asked to consider a sequel, we really had to decide, "What do we want to say? What can we offer that the first book did not?" Ultimately, the idea of cooperation and teamwork emerged and allowed us to bring in more trucks who can do cool things — without compromising the heroic aspect of our original five heroes.
What is your writing schedule like? I always chuckle when people ask me that — because, as a working mom with so many responsibilities on the home and volunteer fronts and as someone who also travels a TON, there is no schedule. Quite honestly, that works for me. I think a self-imposed schedule would make me feel confined, grumpy or like I'm constantly failing. So, I write when the ideas are so clear and defined that I HAVE to write them down, or when I have a drop-dead deadline for editing (pressure helps put me in the chair, for sure!). Generally, I just sneak in time here-and-there. It's seldom that I can get an entire, uninterrupted day, so I catch-as-catch-can.
I can certainly relate to that writing schedule. The Redeemed Reader team is quite aware that we get more done when we work together, especially when we do it cheerfully! Thank you so much, Ms. Rinker!
Please follow and like us: