For sci-fi fans, The Quest for Truth series offers adventure with a biblical base.
The Quest for Truth by Brock Eastman: Taken (2011), Risk (2012), Unleash (2013), and Tangle (2015).  P&R Publishing (a Focus on the Family Resource)
Reading Level: Middle grades, ages 10-12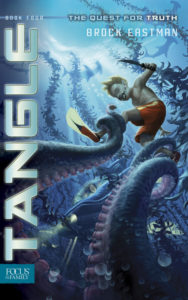 Recommended for: ages 10-15
Oliver, Tiffany, and twins Mason and Austin Vikk enjoy an adventurous life with their archaeologist parents as they travel from planet to planet in search of clues to the lost world of Ursprung. But the progeny get more adventure than they bargain for when their parents are kidnapped by the Ubel, a nefarious organization headed by the Nazi-like Captain Vedrick.  The Wikk kids are suddenly on their own, a situation that will test to the limit Oliver's leadership, Tiffany's brains, and the twins' courage and loyalty.  As they race against time through the four volumes their universe expands to include space pirates, a race of blue people, mysterious symbols and inscriptions, hermits, mystics, and carnivorous lizards—as well as the always-looming threat of the Ubel.
Tech-loving readers (even those not thrilled about reading) will enjoy the gadgets and spacecraft conjured by the author's inventive mind.  Those not so technologically geared may find it slow going in places, but the frequent biblical references and the growing recognition as the Wikks approach the end of their quest are rewarding .  Thematically, the books fit well with our Proverbs themes, especially for Weeks 1 and 2.  The quest isn't done by the end of vol. 4—there's one more challenge to face—but Hope, the final installation of the series, is in process.  If you'd like to catch up and don't mind a cliffhanger ending, the author is offering a summer special: $12 off the set from now until August 1.  See brockeastman.com, order code 12OFFTQ4T.
Cautions: None
Overall rating: 3.75 (out of 5)
Worldview/moral value: 4.5
Artistic value: 3.25
Talk amongst yourselves...