Andrew Klavan's spiritual journey from atheism to Christ takes a particularly literary character, but ends where all good journeys do.
The Great Good Thing: a Secular Jew Comes to Faith in Christ by Andrew Klavan.  Thomas Nelson, 2016, 263
Reading Level: Young Adult, ages 16-up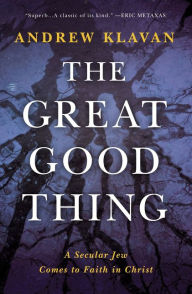 Recommended for: ages 16-up
How does Jesus get through to a human heart?  With every heart, it's different: sometimes a flash of insight, sometimes a slow burn.  Sometimes dramatic, more often a path beaten through the stuff of everyday life.  Christian biographies that culminate in a sports figure, politician, or celebrity getting saved (such as Chuck Colsen's classic Born Again) are inspiring and accessible, but great conversion stories demand a little more of the reader.  John Bunyan's Grace Abounding to the Chief of Sinners and C. S. Lewis's Surprised by Joy come to mind, and now Andrew Klavan's The Great Good Thing.
These are spiritual biographies, not as attentive to the details of one's professional life or achievements, not always chronological, and much more introspective.  It's not so much about the subject's life as about how Christ used his particular family, upbringing, interests, and relationship to woo and win him.  It's a portrait of a mind, buffered and battered, stretched and strained and finally made a fit residence for the Holy Spirit.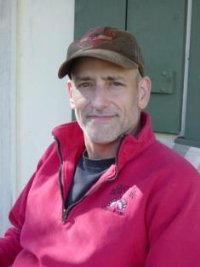 Long-term visitors to Redeemed Reader should recognize Andrew Klavan as the author of several young-adult novels with moral if not spiritual themes.  Before that he was a successful writer of adult thrillers whose works were adapted to the screen.  Long before that, he was the rebellious son of a middle-class Jewish family growing up on Long Island.  In our interview with Andrew years ago, I asked him what kind of books he liked to read as a kid.  "Stories about guys with guns who saved dames from danger!" was his reply.  In his boyish imagination, while walking to school or daydreaming in class, he was that guy, the laconic hero staring down imaginary dangers.
Meanwhile, life happened.  His first spiritual crisis was going through a Bar Mitzvah he cared nothing about and barely prepared for, and once it was over he found he couldn't keep the money and jewelry a 13-year-old Jewish boy normally received.  To maintain his own juvenile sense of integrity, he stuffed it all in the garbage one night.  (That should give you a clue about his intense personality).
He spent his second decade acting out against his equally volatile father and bluffing his way through high school and into UC-Berkeley.  In his twenties he became enamored of Jesus, not as savior but as a fellow dreamer and hero.  The Bible made sense to him as drama, seminal mythology and "The Code of Life" (as William Blake put it), but not as objective truth. By then he recognized his writerly ambitions, and he traveled the nation in search of Experience.  His mind hit the road, too: in his twenties he started reading all those books he'd bought in college but never cracked open: the classic novels and dialogues, starting with Faulker and culminating in Crime and Punishment.  This was the novel that "changed my life" and showed him the insanity of moral relativism.
But recognizing insanity is not the same as escaping from it, and for the next fifteen years or so his life was a roller coaster of ups and downs, early successes and crashing failures.  One great good thing was his wife; another his two children.  But the anger and unhappiness of the past still gripped him.  It should have been so much fun, he thought at one point, recalling his boyhood:
We had everything.  A roof over our heads and food to eat, an intact family, a father working at a job he enjoyed for good money; a fortunate life.  Our house should have been filled with gratitude and charity and rejoicing.
But it wasn't, and that's the dilemma of modern life.  We have everything, and we're still unhappy.  Could it be that we make our own unhappiness?  Years of therapy helped Klavan let go of the past, but only God could redeem his future.  How that happened occurs in the next-to-last chapter but, as with so many conversion stories, we can also look back and see God at work all along the path, through the novels and experiences and people and philosophies.  Three simple words finally cracked open the bright light of conversion: "Thank you, God."
Klavan's experiences won't resonate with everybody, but if you've ever been moved to tears by a book or character in literature, you will be rewarded by The Great Good Thing.
More than 75 books for children and teens, all about islands, oceans, and more. Bonus: get a free hand-drawn reading tracker!
Reading Ahead for You
Reviews and Resources Weekly in Your Inbox