Welcome to week 3 of our Wisdom & Wonder Summer Reading Challenge!
In Week 1, we learned about turning to God and away from sin. Jesus is the real wise man, and it is only through his grace that we can turn from our sin and to him in faith.
Last week we learned that God's Word is the true treasure described in the book of Proverbs, and that studying it is the best way to discern wisdom from folly.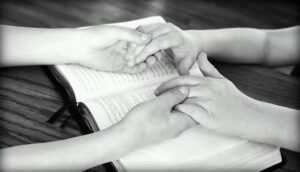 Wisdom & Wonder Week 3: Responding to Correction
This week, we see how God uses obedience to parents and warnings of discipline to instruct us in wisdom. If you are following along in Wise-Up,* this week includes material from weeks 6 and 7. Have you tried the cooking game or the picture experiment? How did they go?
Wisdom begins with recognizing that Jesus is the truly wise man and that true wisdom is found in God's Word. When parents use Scripture to examine their own hearts and to point out sin in their children's hearts, correction means more than changing outward behavior. The way of Wisdom is only through Jesus. No one likes being corrected, but God calls parents to use His Word to help show their children the way back to Christ.
*If you do not have a copy of Wise-Up, we encourage you to get one! Sign up for our special summer reading Wisdom & Wonder newsletter for a coupon code to get the book at a discount from New Growth Press.
General Discussion Questions
Later this week, we'll discuss how some of our favorite characters respond to correction either wisely or foolishly.are listening to the voice of wisdom over the voice of folly. In the meantime, here are some discussion questions you can ask your kids (or yourself!) about any book (or those on this week's booklist):
Which stories have a specific character who responds wisely to correction?
Are there any characters who respond foolishly?
What are the consequences for each?
Anchor Book Discussion Questions
What stories in Wise Words show characters receiving instruction, ignoring it and being corrected? Did they learn their lesson and repent or remain in their folly?
In The Wilderking, there's a stark contrast between Aidan and some of his brothers in terms of their heart conditions. How would you characterize the brothers' responsiveness to the wisdom of Bayard, their respect for their father's authority, and their teachableness in general? How does Aiden show a teachable spirit?
(This theme especially applies to The True Prince)
What "voices" is Kit listening to in the first half of The True Prince?  What are they telling him?
In what ways do Fallstaff/Penny resemble a "fool"?  See Prov. 10:14, 10:23,12:15, 14:16, 15:5, 20:3, 26:1, 28:26, 29:9.
Shakespeare's two-part history play, Henry IV, informs much of the plot of The True Prince.  Henry IV features the Bard's  most famous character (next to Hamlet), Sir John Falstaff, the fat, cowardly, self-indulgent, truth-allergic companion to Prince Hal, the future Henry V.   In the tavern scene in Henry IV, Part One (Act 2, Scene 4), Falstaff pretends to be the prince's father to "correct" his wild ways, then Hal insists they trade places.  Later, the prince has a confrontation with his father the king.  Read the scene, or watch this video version of it performed by the Royal Shakespeare Company.  Then read Act 3, Scene 2 (warning: the king is very long-winded!).  How does the prince's behavior change as he listens to these "two voices"?  Do you think he is sincere?
 Here is our booklist that suggests more books relating to this week's theme.
In light of appreciating Janie's novel The True Prince, we hope some of our readers might be interested in developing their own Shakespeare Home Library. We have plenty of suggestions for titles and series that would make a great collection, and will be sharing them this week! Later we'll discuss responses to correction in our anchor books, Jurassic Park, The Frances books by Russell Hoban, Calvin and Hobbes and more.
What do you think? Can you suggest more stories, characters, correction, consequences and responses?
More than 75 books for children and teens, all about islands, oceans, and more. Bonus: get a free hand-drawn reading tracker!
Reading Ahead for You
Reviews and Resources Weekly in Your Inbox