Just in time for Father's Day, this picture-book collection of poems celebrates the daily presence of a loving dad in the household.
*My Daddy Rules the World by Hope Anita Smith.  Henry Holt, 2017, 32 pages
Reading Level: Picture book, ages 4-8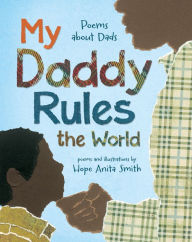 Recommended for: Ages 2-10
The name "Daddy" should conjure up all kinds of warm images in our memories: wrestler, tickler, provider, corrector, Sunday-morning breakfast-cooker, counselor and friend.  Blessed indeed is the child with an involved father.  These fifteen poems (mostly rhyming, one blank-verse) celebrate various aspects of fatherhood from the viewpoint of a pre-adolescent child, starting with My daddy is a porcupine with whiskers that are prickly./My daddy is an octopus who finds where I am tickly/My daddy is a tall giraffe who lifts me to the sky./My daddy is a sea eagle who teaches me to fly . . .   Except for one stay-at-home dad, the roles filled by these fathers are refreshingly traditional: cutting hair, playing catch, providing discipline (with reassurance of steadfast love), reading aloud, and even snoring away in his favorite chair.  It's not edge-of-your seat excitement or a barrel of laughs, but a lovely book for kids and dads to share, with attractive torn-paper collage illustrations.
Hope Anita Smith is also the author-illustrator of a similar collection, Mother Poems.
Cautions: None
Overall Rating: 5 (out of 5)
Worldview/moral value: 5
Artistic value: 5
Talk amongst yourselves...