When you want to enjoy Shakespeare with your children, you can either focus on one play at a time or spread a Shakespeare feast so they can form their own relationships with numerous plays. There are plenty of good reasons to take either approach either within your own family or as a shared experience with others.
Of course there are the well-known and readily available adaptations by E. Nesbit and Charles and Mary Lamb, but there are also some more recent publications that I highly recommend. Since my own acquaintance with Shakespeare began with reading Lamb's version in my youth, taking a whole class on the plays in college only deepened my appreciation for what was already familiar territory.
Not only do I want to share him with my children, I also like to be a resource for other local families, so I am developing a Shakespeare collection in our home library.
This year we are introducing Macbeth. In anticipation of their someday delving deeper into the text itself, for now I am content to read three or four versions of the story rather than taking taking them to a live performance that would be too intense for this stage (pun intended) of their lives.
Most libraries will carry at least some titles in the following series, so I borrow what is available and buy what is not. When I find a series I like, I purchase any of the titles I can afford so I can assign, display, strew (a casual form of display that sometimes works) and lend them out with a personal recommendation. Reading a variety of shortened versions helps to make the story unfold more clearly so that reading or hearing the original, beautiful words can be exciting rather than intimidating.
For comparison's sake, these are all linked to Macbeth, but these series are available for many of Shakespeare's plays.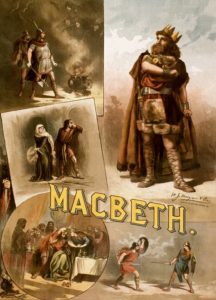 Armour, Richard. Twisted Tales from Shakespeare.
A light-hearted condensed version full of puns and wordplay. Richard Armour is witty and has fun with Shakespeare so the reader does too. This is not easy to find, but check your library or used bookstore.
Burdett, Lois. Shakespeare Can Be Fun!
An elementary teacher introduces Shakespeare to classes of 2nd-6th graders and inspires them to draw or write their impressions of the story as well as produce it on stage for an audience. These kids get it! The plays are re-written in decent rhyme and are very readable for variety in introducing the story.
Coville, Bruce. (various illustrators)
May Mr. Coville's muse continue to inspire him! In lavishly illustrated picture books he has retold some of the most famous stories such as A Midsummer Night's Dream, Macbeth, Romeo and Juliet, The Tempest, and Hamlet. The text is excellent, with the characters using Shakespeare's words whenever possible almost seamlessly with Coville's narration.
Dickins, Rosie. Usborne World of Shakespeare Reference Book. Usborne, 2015.
What would a library be without a reference section? This slim volume full of illustrations is an excellent resource about Shakespeare, his life and times, the theater and his plays. If you have younger children, boys who prefer pictures and minimal text, or just need a basic introduction, this is perfect.
Mulherin, Jennifer and Abigail Frost Shakespeare for Everyone.
Although some of the individual plays in this series are compiled in a single volume (The Best-Loved Plays of Shakespeare), it is worth looking at the individual titles because the historical context of the play is provided. These picture books are only 32 pages long and weave together both summaries and quotations from the play with good illustrations.
Shafer, Rebekah. Simply Charlotte Mason presents Shakespeare in Three Steps.
Although Redeemed Reader does not usually review curriculum, this resource serves a unique function. Intended for use with upper grades, the three steps are to read aloud the story (E. Nesbit's version for children), hear the script (using an audio dramatization or assigning parts to a group of students), watch the play. If a local production is not available, this book reviews a wide range of movie versions so you can decide which is most appropriate and what cautions to be aware of. This is one of the best features of the book, allowing parents to judge what is appropriate for their family based on interpretation and how disturbing content may be portrayed. The annotated script provided in the book can be reproduced for students. (A review copy was provided by the publisher.)
Shakespeare, William. Macbeth. Arkangel dramatized audio recordings.
An ideal accompaniment to just about any study of Shakespeare because the plays are always best when they are perfomed. This format provides valuable language exposure while the student follows along in the text. Listening to actors portray the characters in Macbeth with Scottish accents offers a heightened appreciation of expressive reading and sufficient drama without the visual impact. Note that sound effects are, well, effective, so this version of Macbeth is better suited to high school students. Excellent performance. I hope to add further audio versions to our collection. (A review copy was provided from Simply Charlotte Mason.)
Tales from Shakespeare Retold in Modern-day English. Various authors.
These are written at about a third-grade level with larger text, plenty of white space and illustrations so the stories are more accessible to independent reading.
Williams, Marcia. Tales from Shakespeare and More Tales from Shakespeare.
Is it possible to cover an entire play in 2-4 pages? If the pages are written and illustrated in comic-book style, combining showing with telling and using lines from the play and framed with commentary from a Globe Theater audience, then it is not only possible, but also great fun!
Don't miss our other Shakespeare posts where you can find additional resources for developing your Shakespeare home library collection.
Introducing Shakespeare to Children
Shakespeare: Life, Theater and Historical Context
Shakespeare Summer (Midsummer Night's Dream)
Shakespeare Summer: General Principles Applied to a Difficult Play (Henry V)
Twelfth Night: Shakespeare's Christmas Play
The Shakespeare Stealer and an Interview with Gary Blackwood
Please follow and like us: