A little known slice of American history comes to life in this Christian middle grades historical fiction novel about the Battle of Seattle.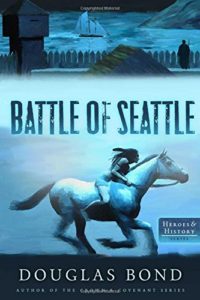 The Battle of Seattle by Douglas Bond (Heroes & History Series). P & R Publishing, 2016. 312 pages.
Reading Level: Middle grades, ages 10-12
Recommended For: Middle grades, ages 10 and up
William Tidd must be the man of the family even though he is only a teenager. Struggling to help support his younger sister at a subsistence level, he thinks often of his absent father and dead mother. Charlie Salitat is his best friend, but in 1855 in present-day Washington State, it's getting dangerous for a Native American and a white boy to be friends. When tensions between the races escalate, William joins a group of Rangers bent on hunting down a Nisqually Chief in an effort to avert all out war. Charlie's loyalties are also tested as he must navigate between his white friend and the Indians he considers family.
The Battle of Seattle was a key historical event for Washington State and the Union's presence there. Bond captures the tensions between whites and Indians well and gives readers a picture into how quickly those tensions can escalate through fear, misunderstanding, miscommunication, and violence. William's struggles with whether to join the militia or not mirror his other coming-of-age struggles as he wrestles with his father's Transcendentalist beliefs in the light of his older black neighbor, a devout Christian. In the end, Bond leaves several loose ends floating around in the reader's mind: does William ever accept Christ? What happens to Charlie? What really happened to William's father? Does William succeed in providing a good home for his sister?
Of note: There are some racist elements in this book that will trouble modern ears. No doubt the white settlers in Washington in the nineteenth century (and probably many today) thought the very things Bond implies regarding their Indian neighbors. Contemporary writers of historical fiction have a fine line to walk between historical authenticity and racist attitudes we find very offensive today. Parents and teachers who recommend this book to their children and students should be ready to discuss racism and offer some balance.
Cautions: Racism (see above paragraph)
Overall Rating: 4
Artistic Rating: 3.75
Worldview Rating: 4.25
For musings over racist attitudes in books, see Janie's posts: Toward a Positive Multiculturalism in Children's Books and Historical Racism in Children's Books. For more American history titles that feature lesser known events, see American Ace (Tuskegee Airmen), Freedom in Congo Square, The Boy Who Became Buffalo Bill, and The Great Turkey Walk.
I received a copy of this book free from the publisher in return for an honest review.

More than 75 books for children and teens, all about islands, oceans, and more. Bonus: get a free hand-drawn reading tracker!
Reading Ahead for You
Reviews and Resources Weekly in Your Inbox