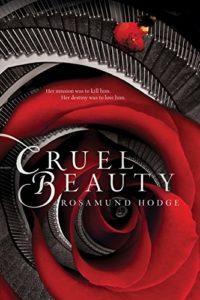 Some of the staff here at Redeemed Reader decided to discuss Cruel Beauty by Rosamund Hodge as it relates to the story of Beauty and the Beast. The novel is promoted as a retelling of the classic fairy tale. If you are unfamiliar with the premise of Cruel Beauty, please read Janie's review of the novel here. 
What did you think about Cruel Beauty as a love story? Was it done well? Do the actions of the characters show sacrificial love?
Janie: Cruel Beauty sets out to be a great love story, and I don't think it succeeds.  I may not be the best reader for this kind narrative, because as I get older I'm less willing to undergo total immersion in a single relationship: life is growing shorter—let's get on with it!  A young woman (and frankly, I can't see a young man enjoying this) is typically interested in romantic relationships and in the meaning of every glance, laugh, and kiss, but I found it claustrophobic after a certain number of pages.  That said, Nix is an interesting character, especially in the contemporary YA scene, in that she is aware of her shortcomings and doesn't excuse them.  She wants to exemplify sacrificial love, but less noble passions are always getting in the way.  In the end, she "saves" her husband, and they go forth to learn to love together.  The novel makes clear love isn't easy, even when the lovers are physically attractive and exciting and passionate—we're all deeply flawed, and that passion has to be tamed and brought home.
Hayley:  Do you know, I enjoyed it on the first reading —I wanted to get to the end and see what happened!  But as a love story, there was a minutiae of details that didn't leave me clamoring for a re-read, along with some sensuality.  There are deeper themes, but not as much sacrificial love —the Cupid and Pysche myth's betrayal side was more in evidence.  Like Janie said, this is definitely a story that would be enjoyed by girls but not young men.  That, in itself, makes me wonder if it falls short as a love story?  A truly great love story, think Jane Austen, can be appreciated by men and women.
Alysha: Janie, I agree that young men probably wouldn't be interested in this novel, and I did find the love story to be bogged down at times, and Hayley, like you I found myself racing to get to the end of the novel so I could see how everything ended. I felt like the author did succeed in creating a compelling story, and I appreciated how both Nix and Ignifex own their own sins. The prose was a bit heavy-handed at times, and I wished there wasn't that odd "triangle." I wonder if the story succeeds as a love story, because yes, I think a truly great love story (or any story) should be appeal to both men and women.
The setting was a huge part of the story. What did you think about it, and how did that affect your reading of the novel?
Janie: I couldn't pin down a specific time period—though the setting is supposed to be ancient (maybe even prehistoric), the props and costumes were more medieval or early-modern.  I'm sure the lack of specificity is intentional, but I found it distracting.
Hayley:  It did feel Medieval/Renaissance-ish in an alternative reality sort of way.  Though there were references to outside events, much of story occurs and is focused in a small area.  If anything, it helps create a slightly claustrophobic atmosphere. The reader, like Nyx, is trapped in the setting.
What are your thoughts about Nix as a heroine? What were some of her strengths? Weaknesses?
Janie: Her greatest strength is self-awareness and an ability to reason beyond the moment.  Her greatest weakness is getting lost in the moment.  Paradoxical, but so is her husband!
Hayley:  Nyx is refreshing because she realizes her inadequacy and hypocrisy.  That, in itself, is a strength.  She is also determined and plucky.  I like Janie's reference to a paradox —I think the paradox and Nyx's flaws make her a heroine we can appreciate.
Alysha: Nix's transparency about her inner feelings was, to use Hayley's word, refreshing. She was brave and resourceful. She did not shy away from potential danger. I also like Janie's reference to a paradox – Nix's inability to see more than one option at a time was a weakness that played out well in the story.
This story is supposed to be a loose retelling of Beauty and the Beast, and the myth of Cupid and Psyche. Did you see those elements in the story?
Janie: Forbidden rooms, an enchanted castle, and a magic mirror play a part in both Cruel Beauty and Beauty and the Beast.  Selfishness and sacrifice, the ruthless bargaining of the gods, the cryptic identity of the husband and the price his wife must pay all figure in Cupid & Psyche.  But the author stirs in biblical elements—I was struck by allusions to the story of Ruth: Where you go I will go . . . Where you die I will die . . .
Alysha: Janie, yes! I was pleasantly surprised with the biblical allusions in this story. The idea that love is a sacrifice, and that it is not something to be taken lightly also reflected biblical themes. Ignifex's curse, the invisible servants, and a world cut off because of the actions of one man were also reminiscent of Beauty and the Beast.
What was your favorite moment, character, or scene in the story?
Hayley:  I do love when Nyx realizes that the answers having been hiding in plain sight, woven along the edge of the story —if that makes sense?  It's a nod to British mythology and stories of the fairy folk.
Alysha: It does make sense! I hadn't thought of that, but now that you say it, I want to go back and read some more British mythology. I loved the element of mystery in the story. I was trying to figure out the secrets of the curse right along with Nix.
Familial relationships play a huge role in this story. What did you think about Nix's relationship with her family in the beginning verses after time resets? 
Hayley: That aunt of her's —ugh!
Alysha: Right? Not only her aunt, but her relationship with her father showed how deeply Nix desired to be loved for herself, not for what she was born to do, or how clever she was.   
This is not an overtly Christian story, but does have some great reflections of Christianity. What were some that stood out to you? 
Janie: I can see a Christian view of marriage, for one thing: Neither Nix nor her husband are complete in themselves, and when alone they find themselves divided.  Nix is in a continual struggle between love and hatred, passion and duty, and (if I'm not giving too much away here) Ignifex is literally two people!  By taking the drastic step to sacrifice for and commit to each other, they find something greater than themselves.  But more importantly, they find themselves.
Alysha: Beautifully said Janie. Ignifex and Nix went into their "happily ever after" knowing it would be work, that their marriage would not be perfect, and that they would hurt each other at some point. They did not shy away from the task, but faced their new lives with hope and joy.
Stuck at home? Enjoy our FREE Christian read-along adventure for all ages with lots of book ideas, discussion questions, and more!
Reading Ahead for You
Reviews and Resources Weekly in Your Inbox