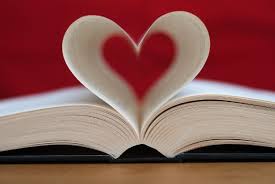 All of us here at RedeemedReader.com love a good romance, and over the years we've written about some of our favorites.  Not all romance is wholesome, of course, and the contemporary view of "Love" falls far short of a biblical ideal.  One big example is showing in theaters this week.  Emily was on the mark years ago with her coverage of the book trilogy 50 Shades of Grey.  With the second movie hitting screens all over the nation, this seems like to a good time to repost her interview with Tim Challies on unhealthy sexuality.
But we've had plenty to say about wholesome love stories, too.  Hayley listed some of her favorite titles a couple of years ago in Reading about Romance.
Betsy had some thoughts about Christian romance as "part of a well-balanced book diet," with questions to discuss among your teen readers.
Regarding Christian romance fiction, Janie noticed Five Red Flags to watch for with these squeaky-clean (well, not always) novels.
Then there are the classics, which are "classic" for a reason.  One of the great all-time love stories is much more than a love story–how long has it been since you've read Jane Eyre?  Janie had some observations about the two framing characters in the story (not Jane and Rochester) that seldom receive their due, as well as links to a list of movie versions and alternate print editions.
Talk amongst yourselves...