A new best friend, a pushy little sister and two thieving skunks cause no end of trouble for Mateo in this quirky tale.
The Midnight War of Mateo Martinez by Robin Yardi.  Carolrhoda, 2016, 173 pages
Reading Level: Middle grades, ages 8-10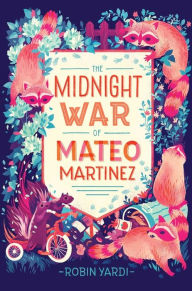 Recommended for: ages 8-12  (especially boys)
Mateo doesn't know when his best friend stopped being his best friend; he just knows it happened.  "When you've got lots of friends, you kind of know where you belong, and things are simple."  But now that Mateo is in 4th grade and breaking in a new friend named Ashwin (Indian? Pakistani?), simple it's not.  "I needed to figure everything out.  I decided to start with the skunks."  Because, a few months ago, when he got up to pee and glanced out the window on his way back to bed, he saw two skunks stealing his tricycle.  No kidding—they each took a pedal and pumped themselves right down the driveway and out to the road.  Naturally, nobody believes him but he swears on his honor as a knight (or caballero), and Ashwin is ready to help him crack the mystery.  But when Mateo's little sister Mila wants in, the mission gets complicated.
Accepting two sentient skunks in an otherwise realistic story is a stretch, and I also wondered why Mateo didn't want to give up his tricycle to Mila now that he has a shiny new bike of his own.  But there's a lot to like here, such as his fumbling attempts at chivalry, as well as honoring his word, choosing his fights, and knowing when to let go.  The two boys get into the kind of hot messes that boys do, but by the end, even though Mateo hasn't figured out everything, he's mapped out some pretty good principles.
Cautions: Language (mild vulgarity; lots of "butts" and a cranky neighbor referred to as "geezer farts")
Overall Rating: 3.75 (out of 5)
Worldview/moral value: 4
Artistic value: 3.5
Please follow and like us: