Historically—and overwhelmingly—the Newbery Award has graced the covers of fictional prose novels. And yet, even "back in the day," there were some outliers. Nancy Willard's A Visit to William Blake's Inn was both a book of poetry and a picture book. But there certainly seems to be more diversity of format in the past five years: verse novels (Brown Girl Dreaming—2015 honor; Crossover–2015 winner), nonfiction (Bomb–2013 honor), picture books (Last Stop on Market Street–2016 winner, Dark Emperor (poetry/picture book)–2011 honor), and graphic novels (Flora & Ulysses—2014 winner, El Deafo—2015 honor, and Roller Girl—2016 honor).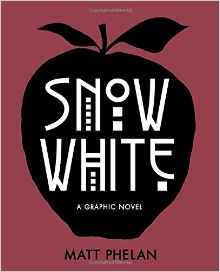 Betsy:
 Therefore, we should discuss some of the outstanding "buzz" books this year that aren't the traditional novel format. Will they win a Newbery? It's possible! 
Some Writer!
 (a Redeemed Reader starred review) is a heavily illustrated biography of E. B. White in chapter book format (sort of an extended picture-book biography). 
Snow White
 is a graphic novel that takes the well-known fairy tale and sets it in Depression-era New York City. Both are distinguished books in non-traditional-Newbery-formats. Both of these are among my favorites this year, Janie, and both are terrific examples of their unique formats.
Let's start with Snow White. Phelan stays pretty close to the Snow White storyline, but his setting of Depression-era New York City is an inspired choice. Because the storyline is familiar, readers are able to notice some of the tensions and events of the stock market crash going on in the background. What do you think about the choice of the Depression for this story, Janie? And do you think Phelan's dark palette captures that time period?
Janie
: It's an interesting choice, both for palette and setting.  Phelan uses mostly grays and whites to tell the story, with dashes of red for emphasis.  Since almost all the photos we have of that time period are in black and white, the palette suits our national memory—even though color returns in the final, "happily ever after" pages.  As I mentioned 
in my review
, Phelan doesn't give much historical background.  A basic, general knowledge of the Great Depression will help the reader set the story, but the more she knows, the more enjoyable the book will be.  I like the setting because we can think of the Depression as a "testing time" for the nation, while we wandered in the wilderness of public policy as we tried to find our way back to prosperity.  (Some of the policy decisions made during this time may have been unfortunate—older readers might want to look at another graphic nonfiction book we've reviewed, 
The Forgotten Man
.)  Snow White also went through a testing time, fleeing through the forest (or back alleys, in this version) until she finds refuge with seven small people.
Also, putting the story in a recognizable historical period and toning down many of the fantasy elements, such as a magic mirror, bring the moral point of the story closer to real life.   Samantha, or "Snow," seems more like a real person facing an extreme challenge, whose sympathy and kindness gain her some valuable allies.  I'm not sure the updating worked as well for the villain of the story, a Broadway star who exerts an uncanny influence over the men in her life.  She wasn't so well rounded, which isn't a problem in a fairy tale—all a villain has to be is bad–but the realistic setting makes us expect more.
Some Writer! will almost certainly win awards in the specifically nonfiction categories, but almost all Newbery medals go to fiction.  Do you think it has a shot, Betsy?
Betsy:
Honestly, Janie, I'm not sure. 
Some Writer!
doesn't have the narrative punch that a nonfiction book like 
Bomb
has. It's an extraordinarily well done biography of a beloved author, and I feel certain it will bring home some Sibert love and 
perhaps
even get a shot at the Caldecott due to its skillful, plentiful visual content. Newbery Awards have gone to other books that don't have a strong narrative poignancy (such as 
Dark Emperor
), but the overwhelming majority of Newberys are books with issues to think about, deep/meaningful elements, significant character transformations and the like. We just don't see that in 
Some Writer!
That being said, the text is as beautiful as the images, and Sweet managed to create a biography of White that 
feels
like White himself might have written it (and, indeed, she uses many of his words in her text!). This is the part of the Newbery that is heavily influenced by the committee makeup of a given year: will they resonate with a more straightforward, joyful-yet-contemplative biography or will they gravitate to heavier narratives full of pathos (such as 
Wolf Hollow/Pax
)? Or will they completely surprise us like the 2016 committee did with 
Last Stop on Market Street? 
There are so many distinguished books some years that very small things can sway a committee when they make those final decisions.
Talk amongst yourselves...