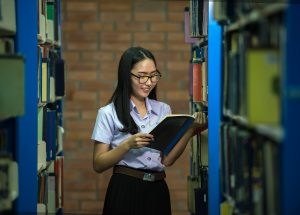 Remember when you were in elementary school and dutifully learned the Dewey Decimal system? If you're like me, you got to college and promptly forgot those Dewey numbers as you prowled stacks labeled by Library of Congress (LOC) numbers and letters. Crazy.
And yet, a very short time into my elementary school library work, and I knew some Dewey sections by heart: fairy tales? 398.2. Sharks? 597. Dogs? 636. Horses? Also 636. Graphic novels? 740s. LEGO? 688. Natural disasters and extreme weather? Try the 550s. My own children also gravitate to these sections; kids love nonfiction, especially when it's on a topic they like.
But there's a lot more to the Dewey shelves than sharks, dogs, horses, tornadoes, and graphic novels.
The 3D Inspiration
I took inspiration from Janie's practice when she was homeschooling her kids, and my kids and I have been tackling the Dewey shelves, choosing from a new section each month. And we've been loving it. (I've made myself do the same challenge. This is for any reader, regardless of age or schooling practice!)
The 3D Rules
Each month, pick a book from a different "hundreds" section of the Dewey shelves. That's it. If you're doing this for school, you might consider asking children to write a short book report that simply includes the Dewey number, the topic of the book, something they learned, and anything they noticed that was wrong (start them fact-checking!). If you're doing this just for fun/enrichment, simply ask them what they read about.
Important: This is to get to know the Dewey shelves better, not for mom to put all the pertinent tittles on hold. As such, you can expect your library visits to last a little longer and/or for your own supervision to increase. Be discerning!
3D Information
If you can't remember how the Dewey system works, here's a funny video reminder (kid-friendly). There is also a very helpful breakdown on Enchanted Learning. Here's a super short breakdown with some subjects/titles my own kids and I've enjoyed:
000s – General Knowledge: Weird but True books are in this section–a kid favorite
100s – Philosophy and Psychology: Confession: I skipped this section because it's a meager one in my library, and I wasn't interested in my kids reading self help books from secular perspectives.
200s – Religion: Tread carefully. There can be some really interesting Bible-related encyclopedias and reference materials. There are also plenty of books about other religions that, when read as a family, can be instructive. Like the 100s, though, it's not a section I encouraged my children to browse and randomly choose books in.
300s – Social Sciences: Fun "You Wouldn't Want to Live Without…(Poop, Plastic, etc.)" titles in this section; also look for random books about the social history of things like chocolate (I read a book called Caffeinated). Traditional literature (fairy tales, etc.) lives at 398.2.
400s – Languages: We enjoyed the kids' version of Eats Shoots & Leaves along with some silly grammar books like Hairy, Scary, Ordinary. If your children are studying a foreign language, see if your library has any books in/about it!
500s – Science: All sorts of fun nature books, including those appealing natural disaster and extreme weather books, lurk in this section. Sharks, dinosaurs–this will be a hot section you'll have trouble moving on from. Budding astronauts? Check the 520s.
600s – Technology: a bit of a misnomer, the 600s also include domestic animals. Have a pet? Research it! Want a pet? Do some preliminary research. This is also where the building/construction books hang out, so if you have LEGO fans, this is your section!
700s – Arts & Recreation: graphic novels, books on sports, crafty stuff….
800s – Literature: books about literature AND poetry books and short story anthologies. Plenty of Shakespeare-related material will be in this section if you'd like to scoop up a retelling or summary of one his plays.
900s – History and Geography: Titanic books are in the 910s. There will be geography sections on the U.S. (such as specific states) and a section that expands to world geography. The 940s include a large section of world history such as Medieval history and the World Wars. Civil War? Check the 970s.
And what about biographies? Most libraries include a biography designation on the spine (such as a "B" sticker). Some libraries will have them in their own special section, arranged by subject's last name. Others mix them into the Dewey shelves according to the subject the character fits with (author biographies will be in the 800s, for instance).
Have fun! Let us know what gems you discover as you explore what your library has to offer.
Please follow and like us: