A survey of economic policy through the ages introduces middle-graders to such topics as fractional banking and the national debt.
Dollars and $ense: a Kid's Guide to Using—Not Losing—Money by Elaine Scott.  Drawings by David Clark.  Charlesbridge, 2016, 98 pages including glossary and index.
Reading Level: Middle grades, ages 10-12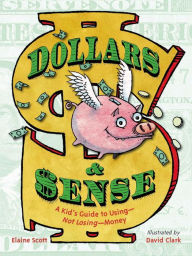 Recommended for: ages 8-15
Ubiquitous pigs—as in banks, not bankers—illustrate this introduction to money policy, some of them in powdered wigs decorating the dollar bill.  Cuteness aside, this is a fairly comprehensive exploration of how money works in the larger society.  Does money make the world go round, or is the love of it the root of all evil?  Both, depending on how it's managed, saved, lent, and spent.  From a historical survey of economic exchange and early banking we move to a general economic history of the U.S.: the chartering of two banks, the shifting of gold and silver standards throughout the 19th century, the founding of the Federal Reserve and the Great Depression—right up to the 2007 recession and continuing controversy about the national debt.  Personal debt receives considerable attention too. (FDR receives credit for digging the economy out of the Depression–for another view see The Forgotten Man, graphic novel edition.)
There aren't many kids' books that take up such topics as margin trading, commodities and futures, and national credit ratings, and most kids won't choose to read about such topics by choice.  Still, these matters are explained about as well as they can be for the age level, and the author includes a pertinent reminder at the end: if money doesn't make the world go round it certainly greases the skids, and you should use your own dollars sensibly.  But a person's worth is not connected to net worth.  "It's about what kind of person they are, how they treat others, and how they treat themselves."
Cautions: Worldview (leans liberal, but not to great detriment)
Overall rating: 3.75 (out of 5)
Worldview/moral value: 3.5
Artistic value: 3.75
More than 75 books for children and teens, all about islands, oceans, and more. Bonus: get a free hand-drawn reading tracker!
Reading Ahead for You
Reviews and Resources Weekly in Your Inbox