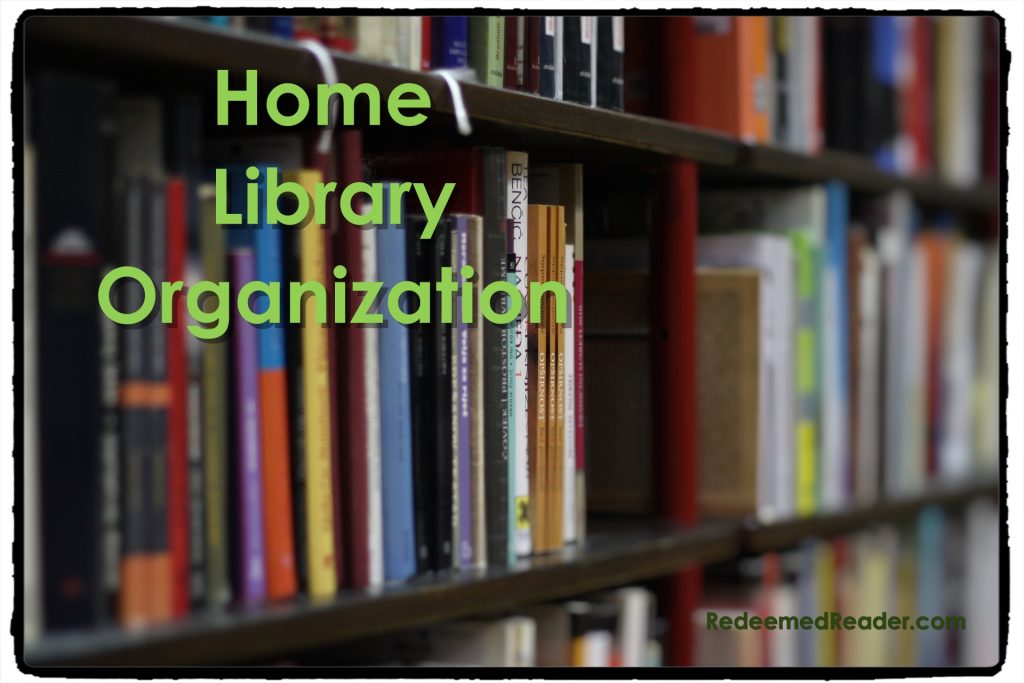 Home Library Organization is a mini-series based on a presentation I originally gave to a homeschool group when I was a professional librarian years ago. These are updated thoughts based on my current experience as a home librarian surrounded by little boys and lots of books! I'd love to hear your thoughts as we walk through the library organization process from start to finish.
Of Making Many Books, There is No End…
Or, why you should organize your home library!
Booklovers read, and, therefore, think they know everything. They think they can milk cows, fly planes, grow orchids, and build sturdy, beautiful, inexpensive bookcases, relying only on the information they find in a book. If this were true, booklovers would be the richest, most physically attractive, longest-lived, and most influential group of people on the planet. ~Patricia Jean Wagner

If your collection is growing, and you don't weed at the same rate at which you acquire books, and you don't build more shelves, you will run out of space. ~Patricia Jean Wagner
The Gathered Assembly
Collecting is a curious appetite. Is it the hunting or the having which brings pleasure? The hunt provides excuse to inquire at every bookshop whether there are any titles by Mrs. E. Prentiss available, any unusual illustrators of Alice in Wonderland, or simply some titles for an upcoming school booklist.
Although many objects may be gathered to form a collection, books are unique because their identity and content help define the multi-faceted character of their keeper. Our past, formative reading mingles with our present interests and future intentions, building thought upon thought and inviting conversation. How else could you have tea with someone you have never met in person, whether dead or alive? Would you expect to form an intimate acquaintance with C. S. Lewis or Christina Rossetti and summon them to into your presence at will? Books afford us opportunities we might never have otherwise.
Your Mission, Should You Choose to Accept It
Yet, despite the delights of the hunt for (and acquisition of) books, we are all bound by the temporal limits of time and space. Perhaps this summer is the time when you must face your limits, wrangle your precious home library into order, and even (gasp!) weed out some titles in order to better showcase and use your remaining collection. Before we dive into the practical ins and outs of home library management and organization next week, I have a small homework task for you:
First, take a field trip through your collection and take notes of the general* categories that are important to your family. Also note if you have any duplicates, (but don't discard anything yet). [*general means "picture books," "nonfiction," etc. This is not the time to note your small, but impressive, collection of 5 vintage poetry books.]
Second, choose a category to start with—make it a big one without a lot of subcategories ("picture books," not "nonfiction"). Walk back through your house and pull every item that fits that category. Stack them on the floor so you can see how much shelf space you will need.
Third, decide the best place to put this section for access by its primary users. Make sure to leave a margin of space at the end of the bookshelf, both for future collection development and also to make shelving as easy as possible. If you have no bookshelf available, you can still follow along. I will be showing bookshelf alternatives in the coming weeks.
Follow the steps as we go with this one category you've gathered unless you have plenty of time to tackle your entire collection during the next few weeks!
So how did it go? Did you find any surprises? Any duplicates? Any delightful rediscoveries? 
Read the rest of the series!
Support our writers and help keep Redeemed Reader ad-free.