The exuberant boy-robot Hilo is back from "the void," pursuing his mission to destroy his arch-enemy Razorwark and discover his own origin and purpose.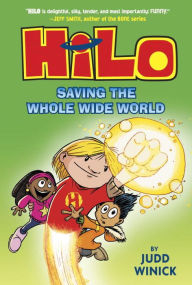 Hilo Book 2: Saving the Whole Wide World by Judd Winick.  Random House, 2016, 193 pages
Reading Level: Middle Grade, ages 8-10
Recommended for: ages 6-12, especially boys
In this second volume of the popular graphic novel series, we're quickly reintroduced to "the boy who fell to earth" and his human friends, D.J. and Gina.  The last episode ended with Hilo disappearing into thin air, but in the first few pages of Vol. 2 he reappears, having trapped the evil Razorwark in a holding area between worlds.  But even if he can't get his own hands on Hilo, Razorwark is quite capable of sending other monsters into our world, including a ninja cat creature (who turns out to be a friend) and a few million killer vegetables (who aren't friendly at all).  Too much for our intrepid band?
Hilo is a kid (actually a robot) of irrepressible high spirits, but some deeper themes are woven through the slam-bang action and humor.  In this episode we get a few more clues about where he came from and why: according to Razerwark he's an engine of destruction, but that may not be the whole story.  Hilo desperately wants what any normal human would: friendship and community.  Most of all, he wants to believe he is good.  D. J. and Gina reassure him that of course he's good, but maybe it's not that simple?  The story ends on a cliffhanger like the last episode did, so we'll have to wait and see where the theme is going.  Probably not a Calvinist view of human depravity and divine grace, but it's mostly for fun anyway.
Cautions: Violence (comic-book variety; nothing graphic)
Overall Rating: 4 (out of 5)
Worldview/moral value: 3.75
Artistic value: 4
Support our writers and help keep Redeemed Reader ad-free.