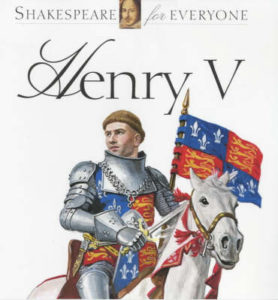 Last year we covered A Midsummer Night's Dream, which is readily available in numerous retellings, picture books, and even coloring pages. We chose this play because there was a local performance available, so we had plenty of resources to try to understand the story ahead of time.
This summer, our best option was Henry V. This is a great history play, but far more challenging to find good summaries and retellings. Still, we took on the challenge for three reasons:
We can conveniently attend a local performance.
It has plenty of battles, which appeal to boys whether or not they can follow the whole story.
It has a great speech to memorize (St. Crispian's Day)
Although we managed to find a few very helpful resources, they are not as readily available as I would like. Therefore, I suggest that you apply the following principles when choosing any Shakespeare play to study with your children.
Exodus 4:2a. "And the LORD said to Moses, 'What do you have in your hand?'"
What play is being offered by your local theater? What retellings and summaries are available at your local library?
KEEP IT SIMPLE.
Your children don't have to understand the entire story, just realize "hey, this is Shakespeare."
Try to find a variety of resources: biographical resources, summaries, modern English retellings, graphic novels, picture books, etc.
Not only will the story make more sense, different versions will point out different details. Build your understanding layer upon layer. Visuals do help, especially with boys. It is a good idea to preview these, to be sure they are not "graphic" in the wrong sense!
Memorize something.
At least that much will be familiar when you attend the play. Our choice for Henry V was the St. Crispian's Day speech.
Watch a performance.
Live on stage is ideal, but there are also plenty of videos. Make sure you preview them. For Henry V, the Laurence Olivier and Kenneth Branaugh videos are good choices (though the Branaugh version does depict more violence). We have seen a stage performance and hope to watch the videos as well over the course of the summer.
Recreate a scene with Lego.
See the post on Books and Bricks here and try to locate a copy of Brick Shakespeare. Send us photos of your creations! (See below.)
Assign parts and read a scene aloud.
Try to pick out a familiar quotation or two. ("We few, we happy few, we band of brothers.") Keep it short!
Discuss biblical comparisons, contrasts and worldview.
How are the impossible odds at the Battle of Agincourt similar to the story of Gideon? How do they differ? (Here is Betsy's post on Othello.)
Above all, KEEP IT SIMPLE.
They don't have to understand it all, just realize, "hey, this is Shakespeare!!!"
RESOURCES:
Greaves, Simon. Comic Book Shakespeare. Timber Frame Publications. 60 pages.
A few of these are available only through Veritas Press. Set out in a comic book format, the original text is provided along with a contemporary translation. Illustrations are simple black and white with one other color. (Betsy found the red accents in Macbeth rather creepy, but the blue in Henry V presented no problems.)
*Knapman, Timothy. Illustrated by Yaniv Shimony. Tales from Shakespeare series. QEB Publishing. 48 pages.
This is a fantastic series that makes Shakespeare's plays (including Henry V!) very readable for 8-10 year-olds, and they also work well to read aloud. The illustrations are nicely done in black and white with an accent color. Availability is limited on Amazon, but I hope they will continue to be made available either in print or electronic form. Excellent resource, highly recommended.
McDonald, John and William Shakespeare. Classical Comics series. Classical Comics, Ltd. 144 pages.
There are three text versions available for Shakespeare's plays in this series: original, plain and quick. I was delighted to find Henry V, but have some reservations about generally recommending it. While the concept is great and the art is well-done, parents should be aware that this graphic novel depicts violence that fits the story but may be too heavy for younger readers.
*Mulherin, Jennifer. Illustrations by Patricia Ludlow. Shakespeare for Everyone series. Cherrytree Books. 32 pages.
Provides reprints of art, historical context of Shakespeare's writing the play, and an overview of the story with excerpts of text. We found a reasonably priced copy of Henry V, though it is not currently in print. Many other plays are available. It's a great series to start with. Highly recommended.
See also Shakespeare Summer: A Midsummer Night's Dream for other general resources on studying Shakespeare with children.
Other Shakespeare reviews on Redeemed Reader.
And now, dear readers, we always love hearing from you! What plays have you studied, attended and enjoyed? Anything that worked for you or didn't?
AND, if your children create any literary Lego scenes, please send a photo and description to
megan (at) redeemedreader.com.
I'd love to start compiling a page containing photos of ALL your "books and bricks" creations!
Please follow and like us: