In this British children's classic, the brave Swallows (four siblings) are at war with the piratical Amazons (two sisters) in one glorious summer of sailing, camping, and treasure hunting.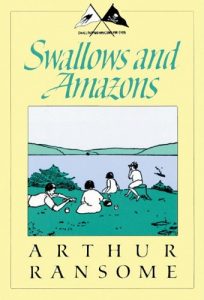 Swallows and Amazons by Arthur Ransome. David R. Godine, 2010 (reprint; orig. 1930). 315 pages.
Reading Level: Middle grades, ages 10-12
Recommended For: All ages (read aloud); ages 8 and up (independent read)
The Walker family is spending the summer in the Lake District while Mr. Walker is off at sea. The four oldest children (John, Susan, Titty, and Roger) gain both parents' permission to sail off in their boat (the Swallow) to an island in the middle of the lake and camp by themselves for about a week. What a glorious adventure it is to set up camp all by yourselves on Wild Cat Island. Alas, they are not the only intrepid explorers of the lake. The Amazon with its mates (Nancy and Peggy) is an enemy ship, and the two boat crews declare war: whoever manages to capture the others' boat first wins.
Full of sailing terminology, mucking about in boats, independence, and cheerful natives (the parents and other adults on shore), the Swallows and Amazons sustain fierce competition only to join forces against a suspicious pirate in the houseboat (Nancy and Peggy's uncle). The narrative is very British and will remind readers of other titles (both British and American) from the first half of the 20th century that feature groups of boy/girl siblings engaged in adventures, both real and fantastic (Narnia, Five Children and It, Half Magic, and The Magic Summer all come to mind). Boys and girls are heroes, siblings unify in solidarity against the grown-ups (not in rebellion, but in classic childlike independence), fears are faced, problems are solved, and all's well that ends well. A fantastic multi-age read aloud, this is also the beginning of a series that the voracious readers out there will enjoy!
Cautions: Language (mild: "shut up" and similar a few times)
Overall Rating: 4.5
Worldview: 4.5
Artistic: 4.5
Categories: Middle grades, adventure, retro reads, historical fiction
More than 75 books for children and teens, all about islands, oceans, and more. Bonus: get a free hand-drawn reading tracker!
Reading Ahead for You
Reviews and Resources Weekly in Your Inbox