The Divergent series by Veronica Roth, a self-avowed Christian, lives on as Allegiant hits theaters this week. Below, Hayley reflects Allegiant in book form.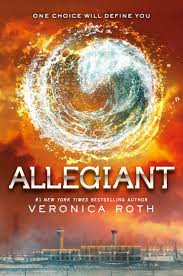 Allegiant, by Veronica Roth.  Katherine Tegen Books, 2013, 544 pages.  Age/interest level: 14 – up.
Beginning in  Divergent, readers have followed the life and decisions of Beatrice, "Tris" Prior in a future Chicago governed by factions.  These factions, each highlighting a particular strength, crumbled at the end of Insurgent, yet readers were left with a cliff-hanger that promised an exciting ending to the series.  It is one that Allegiant fails to deliver.
The book opens with the city under the dictatorial rule of Evelyn Johnson who is also the mother of Tris' love interest, Tobias.  Evelyn is intent on squelching the faction system and all who oppose her leadership.  Key among the opposition is the Allegiant, a group of former faction members, banded together with the common goal of restoring the faction system and carrying out the "mission" shared at the end of Insurgent.  This mission is to reach and help the outside, unknown world that lies beyond the guarded borders of the city.
What Tris, Tobias, and other Allegiant members soon uncover on this mission will shock characters and readers alike.  The people living in Chicago are actually a group of genetically damaged individuals who have been a multi-generational experiment, every move of which has been monitored by the United States government.  Chicago's current instability is threatening the funding for the experiment.  As a result, the leaders of the experiment are ready to take drastic measures unless Tris and her group are able to stop them in time.
Under this barrage of information, the story falters.  Readers are left sorting through details and issues that sound suspiciously gleaned from today's headlines.  Gone is the action that kept readers turning pages, and there is little to redeem it in character development and interaction.
The romance between Tobias and Tris continues, and from steamy kisses it has progressed to body-locking PDA.  Every romantic encounter is described in excessive detail,
 . . . he pulls his shirt out from under my hands so that I am touching his bare skin.
Despite the continual passionate embraces, there is no explicit sex, yet one scene ends up with both characters in bed, shirt-less, asleep together.  Apparently, they just slept close together, but the ecstatic wording from Tris' perspective seems to indicate much more than that.
Add to this a continual dose of violence, casual profanity, and a search for answers that are never discovered.  Christian readers will be disappointed to find that Allegiant never answers the dangling question of God, hinted at in the previous books.  Instead, the series seems to offer redemption and answers apart from God.
Characters discuss ideas like sacrifice, forgiveness, and living with grief and loss, but the wording is stilted and uninspiring.  Instead of character's thoughts, these discussions and opinions come across as thinly veiled lecturing.
Life damages us, every one.  We can't escape that damage.  But now, I am also learning this: We can be mended.  We mend each other.
*SPOILER ALERT*
As Allegiant draws to a close, Tris chooses a path that seems to lead to death.  It is a choice that any reader who knows Tris will expect, with the knowledge that she is Tris, and she can survive.  And she does survive, but not for long.
Can I be forgiven for all I've done to get here?

I want to be.

I can.

I believe it.
And with these words, Tris–along with the promise of Roth's early novels–is gone.
Since finishing Allegiant, the words of Sydney Carton in Tale of Two Cities have continually come to my mind.
It is a far, far better thing that I do, than I have ever done; it is a far, far better rest that I go to than I have ever known.
Few writers can create and kill a character successfully.  Charles Dickens was one.  Veronica Roth is not, and Beatrice Prior is no Sydney Carton.  It is a sad story, indeed.
Worldview/moral value: 3
Literary Value: 3
Readers may also want to check out Janie's review of Divergent. We also touch on the Divergent series in our podcast, From Ender's Game to Hunger Games, which looks at the dystopian/sci-fi trend in a more comprehensive way.
Discussion Question: If you read the series, what did you think about the ending?  Did you see any evidence of Roth's Christianity in the conclusion?  We'd love to hear what you think!
Post originally posted in 12/2013; minor updates on 3/11/16.