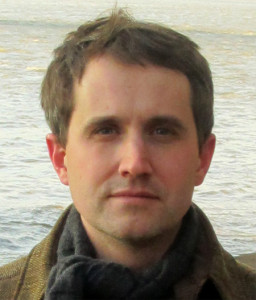 I'm delighted to introduce our readers to Jonathan Bean, author and illustrator of a recently published picture book about homeschooling based on his childhood experience: This Is My Home, This Is My School (FSG, 2015). He has won numerous awards for both writing and illustrating, and was kind enough to share his experience as an author/illustrator, reader and former homeschool student with Redeemed Reader.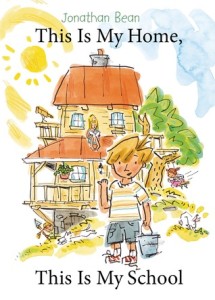 How has homeschooling changed since your childhood?
I imagine the Internet has changed homeschooling a lot. The Internet was still a bit of an oddity during my high school years and, though my family was always involved in homeschooling co-ops and had many homeschooling friends, the social networks that now help so many homeschoolers connect were a few years off. Also, there are a lot more homeschoolers now; everyone seems to know someone who homeschools. I doubt homeschoolers get as many double-takes or sidelong looks as when my parents began teaching me and my sisters in the 80s. 
How did homeschooling influence you as an author/illustrator?
Since I was homeschooled through high school it's hard to think of a way in which it has not influenced my work. But I particularly appreciated the flexibility of homeschooling. My mom, trained as a teacher, was a very organized homeschooler. We had lesson plans and work that had to be done every day. But if I wanted to get out to play with public school friends who had a snow day, explore the woods, or work on an art project, I could get up early, do my schoolwork, and have the rest of the day to myself. It's not unlike the life of the freelancer who has to schedule their days and be self-motivated.

What were some of your favorite books/authors/illustrators when you were growing up?
My first completely engrossing reading experience was with C.S. Lewis' Chronicles of Narnia. I can still recall the rainy day I sat by our wood stove reading the Lion the Witch and the Wardrobe. Later, I made drawings for that book that were my first to be consciously created as illustrations. Other standout books were James Fennimore Cooper's Leatherstocking Tales and Robert C. O'Brian's Mrs. Frisby and the Rats of Nimh. Virginia Lee Burton's images are etched clearly on my visual memory as are those of N.C. Wyeth, who, in high school, was my first illustrator crush.
What are you reading right now?
I'm reading a potpourri of things, with an eye on my next story and also because I've been busy finishing up a project. They include: Phantastes by George MacDonald, The Four Quartets by T.S. Eliot, The Wind In the Willows by Kenneth Grahame and The Writing Life by Annie Dillard. I'm about to reread Annie Dillard's A Pilgrim at Tinker Creek, which was an important book to me during my senior year of college, but one I haven't read in its entirety since.
What is most important to you in life?
Off the top of my head: family, making things, faith, birds, nature, books, reading, friends, coffee, music and bookstores, to name only a little of what's most important.
What did you enjoy most about writing this story?
It was fun to take the tropes of the traditional school story and imagine how I could use the homeschool setting to turn them on their head or reinvent them. For instance, though their dog is clearly a beloved family pet, he's also the school bully, chasing other pets and even the students (ahem) children. All in good fun, of course!
How did you get started in children's publishing?
It was a long process. I first became interested in picture books during my junior year of college but didn't get my first contract until about 6 years later. During that time I worked as a cross-stitch designer, lived at home, moved to New York City, went to grad school, and made three book dummies that have never seen the light of publishing day. My first breakthrough came with Cricket Magazine and, shortly after,  At Night, my grad school thesis project, was picked up by Farrar, Straus and Giroux. The children's book business is filled with people who have devoted thousands of hours to perfecting their craft, and aspiring writers and illustrators should be prepared to commit no less.
What are you currently working on?
I just finished (yesterday!) the cover, and last piece of artwork, for a story titled Real Cowboys by Kate Hoefler. The story focuses on the many noble character traits needed to work well with animals and other people – a pleasant counterweight to the typical depiction of cowboys in lore and legend.
Thank you so much for sharing your work with us, Jonathan!
For more information, visit another fascinating interview here and a further peek at his drawing table here.
Cover image from goodreads, artwork provided by Jonathan Bean. A review copy of the book was provided by the publisher.
Please follow and like us: