Ranger in Time: Rescue on the Oregon Trail and Danger in Ancient Rome by Kate Messner. Scholastic, 2015. About 125 pages, plus author note.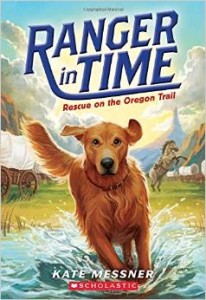 Reading Level: Chapter books, ages 4-8
Recommended for: ages 6-8
Bottom Line: The "Ranger in Time" series is a fun way to introduce early readers to history, as a loveable search-and-rescue dog travels back in time to save the day.
Ranger, a golden retriever, would make a great addition to the local K-9 squad if it weren't for his irresistible appetite for chasing squirrels. He also loves to dig, and while digging in Luke and Sadie's back yard he comes upon a metal box with a red cross on it. Somehow the leather strap on the box gets wrapped around his neck, and he hears a strange humming sound. Then a bright flash, and he's suddenly in another time. Where are Luke and Sadie? Instead, he'll meet Sam and Sarah and their families, headed west on the Oregon Trail in 1849. As a trained work dog, Ranger immediately seeks out jobs to do, but wonders when his work will be done so he can go back home. After saving a life, his mission is fulfilled—but he's smart enough to figure out that the metal box has something to do with all this time shifting, and the next time he hears that peculiar hum, in the mudroom at Luke's house, he knows another job is calling: this time to 80 A. D and ancient Rome, where he must help young Marcus and his friend Quintus escape the gladiator ring.
These simple stories are easy to read but exciting, with plenty of historical details scattered along the way for eager brains to soak up. The author follows up with a historical note including primary sources, and bibliography if the readers want more information. New titles are coming out every six months; up next is Long Road to Freedom, an adventure on the Underground Railroad.
Also by Kate Messner: All the Answers
Also featuring search & rescue dogs: Elle's Story, Mountain Dog, J. J. Tully
Cautions: None
Overall rating: 4 (out of 5)
Worldview/moral value: 4
Artistic value: 3.5
Categories: Chapter Books, Animal Stories, Historical Fiction, American History
animal stories, historical fiction, chapter books, pioneers, American history, reading level: chapter books ages 4-8, recommended for: ages 6-8
Support our writers and help keep Redeemed Reader ad-free.