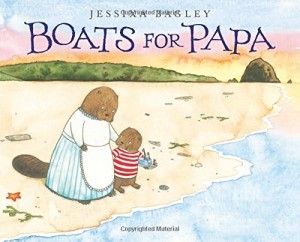 Boats for Papa by Jessixa Bagley. Roaring Brook Press, 2015. 40 pages.
Reading Level: Picture Books, ages 4-8
Recommended For: Ages 4-8
Buckley, a young beaver, lives with his mother by the sea. While he loves everything about the sea, his favorite thing to do is to make boats: "big boats, small boats, long boats, short boats, boats with real sails, ropes, and even tiny anchors." Inspired by thoughts of his absent sea-faring father, Buckley faithfully sends each boat out to sea with a note for his papa. If they don't return? Buckley knows they've reached his papa.
But one day, Buckley finds one of his notes in a surprising place. His actions in light of that new knowledge will bring tears to a momma's eyes, and young children will learn much about loving in the midst of grieving.
Bittersweet, this is a picture book to read together, gently and tenderly. Spare text combines well with delicate watercolor illustrations. This is a book to and for children who are struggling with the absence of a father, but families everywhere will resonate with Buckley's love for both his parents, his forgiveness of one, and the picture of grace and love portrayed.
Cautions: none
Overall Rating: 4.5
Artistic Rating: 4.5
Worldview Rating: 4.5
cover image from amazon
More than 75 books for children and teens, all about islands, oceans, and more. Bonus: get a free hand-drawn reading tracker!
Reading Ahead for You
Reviews and Resources Weekly in Your Inbox