*The Golden Plate written and illustrated by Bernadette Watts. NorthSouth, 2014. 32 pages.
Reading Level: Picture books, Ages 4-8
Recommended For: Ages 4-8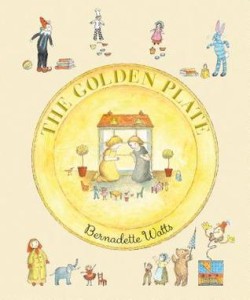 When Isobel sees a golden plate in her friend Elisabeth's beautiful doll house, she slips it in her pocket hoping to improve her own pitiful doll house at home. But the stolen plate looks ugly in the wrong place, and Isobel is haunted by yellow circles everywhere. Finally she unburdens her soul to her mother, who encourages her to confess and return the stolen plate to her friend. Reconciliation is sweet and all is restored.
There is plenty of detail for children to pore over, especially the woeful reactions of the toys who bear witness to what Isobel has done. There is no specific reference to them in the text, but they are a vivid reminder that our "secret" sins are not unseen.
This beautifully illustrated story demonstrates a biblical worldview, attractively packaged in a narrative that highlights the struggle of a guilty conscience. Its biggest limitation is that the audience is mostly limited to girls, but the clear sense of right and wrong rings true to a general audience as well.
Cautions: none
Overall Rating: 5 out of 5  
Worldview Rating: 5 out of 5
Artistic Rating: 5 out of 5
Discussion Points: Does this remind you of the story of Achan? (Joshua 7) How is it different? Can we ever sin and get away with it?
Categories: starred review, picture books, character values
Cover image from goodreads. This book received for review from the publisher for free in return for a fair review.
*indicates starred review
Stuck at home? Enjoy our FREE Christian read-along adventure for all ages with lots of book ideas, discussion questions, and more!
Reading Ahead for You
Reviews and Resources Weekly in Your Inbox