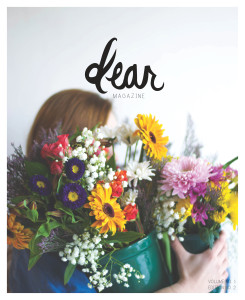 Dear magazine is a sophisticated, attractive magazine for ordinary young ladies who are seeking to serve Christ in an oversexed, feminist, self-centered culture. Although it was started by a 19-year-old homeschool graduate, there is nothing about the content that limits the audience to homeschoolers. The stated purpose of the magazine is "to show young women that they are dear, in every sense of the word and in every area of their lives."
The magazine was started by Jenny Keliher, whose mother Rebecca is the founder of the Well Planned Day homeschool planners and HEDUA Family magazine. In an effort to use her passions for the glory of God, Jenny created a magazine that reflects her love for literature, baking and design.
Issues include the following thought-provoking and informative features:
biographical information and quotations from significant historic figures such as Amy Carmichael, G.K. Chesterton and Jane Austen
reflections on walking with the Lord
fashion ideas (occasionally using thrift store finds)
décor tips and ideas
creative projects
recipes
relationships
concern for women's issues such as trafficking
The photographs are beautiful, but nowhere is idealistic perfection assumed; rather, there is a spirit of humility and hope. The magazine's attractiveness to the reader comes not from high-priced designs and self-improvement tips, but genuine, ordinary, God-honoring beauty inside and out.
The format is large, heavy, matte pages with playful typography and plenty of white space, balancing both a creative and a restful feel. Although the fashion styles are directed towards teens, women of all ages are likely to enjoy the articles and other features.
Dear Magazine embraces redemptive beauty in a fallen world. Nicely done; carry on.
Categories: Young Adult, Christianity, Character Values, Life Issues
Would you like to see a preview of the first edition? We are pleased to partner with HEDUA to offer a subscription giveaway!
A subscription was received from HEDUA for free in return for a fair review.
Please follow and like us: