*Sidewalk Flowers by JonArno Lawson and Sydney Smith. Groundwood Books, 2015. 32 pages.
Reading Level: Picture books, Ages 4-8
Recommended For: Ages 4-8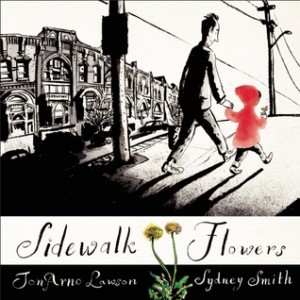 A little girl in a red jacket accompanies her father through the dull city streets, stopping to gather flowering "weeds" that spring through cracks in the sidewalk. In the midst of busy surroundings and her father's occasional distractions, the girl is busy observing beauty and gathering her bouquet.
The turning point in the story is what she does to bless others with her bounty, spreading cheer where it matters: first to those who cannot thank her, then to those who do. When the girl and her father return to their house, the unkempt front yard demonstrates how much her kindness and encouragement are welcome at home, too.
The first part of the book is primarily black and white, with splashes of bright watercolor wherever it is noticed by the little girl. The color increases as she leaves behind flowers with a dead bird, a sleeping homeless man, her tired mother in the doorway, etc.
For every mother who has ever exchanged a hug for a wildflower, or anyone who thinks little beauties are insignificant, Sidewalk Flowers is a reminder, through a child's eyes, that whether or not our kindness is noticed, ordinary things do matter–especially in the sight of God.
Cautions: none
Overall Rating: 5 out of 5
Worldview Rating: 5 out of 5
Artistic Rating: 5 out of 5
Categories: starred review, wordless, picture books, character values
Cover image from goodreads
*indicates starred review

More than 75 books for children and teens, all about islands, oceans, and more. Bonus: get a free hand-drawn reading tracker!
Reading Ahead for You
Reviews and Resources Weekly in Your Inbox