Hostage Run (The MindWar Trilogy, Book 2) by Andrew Klavan. Thomas Nelson, 2015. 352 pages.
Reading Level: Young Adults, ages 12-15
Recommended for: Ages 12 and up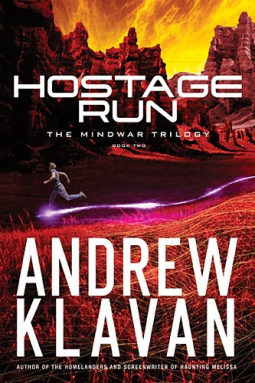 Bottom Line: In the exciting sequel to MindWar, Rick Dial continues to battle Kurodar through the cyber world of the Realm.
Life has changed for Rick Dial since MindWar.  His family is reunited, living under government protection due to their involvement in the MindWar Project.
Rick is conflicted: happy his family is together yet angry at his father for the ruse of abandoning his family.  Also, Rick longs to return to the Realm.  He doesn't know what emotion he feels for Muriel, one of the creatures he met in the realm, or how he really feels for his long-time friend, Molly.  Added to all this, Rick is increasingly angered by the controlling bureaucracy of MindWar's leaders.
Finally, an opportunity comes for Rick to reenter the Realm.  Kurodar, the evil mind behind the Realm, has a new plan unfolding.  Part of his plan is a way of stopping Rick —Molly.  When Molly is kidnapped by Kurodar's thugs, a race begins.  Can Rick thwart Kurodar without endangering Molly?
While Mindwar was very good, Hostage Run is even better.  Character development, nail-biting suspense, and action keep readers on the edge of their seats, and the ending?  You will have to read and see!
One word of caution regarding the Mindwar series and noted in our review of Mindwar: there are some intense, violent/"scary" scenes depicted in this book. Sensitive readers, particularly on the younger end of the young adult spectrum, may wish to save this book for down the road.
Cautions: Violence
Overall Value: 5 (out of 5)
Moral/worldview value: 5
Artistic value: 5
Categories: Young Adult, Sci-Fi, Boys, Starred Reviews
A free copy of this book was received from Netgalley for a fair review.
More than 75 books for children and teens, all about islands, oceans, and more. Bonus: get a free hand-drawn reading tracker!
Reading Ahead for You
Reviews and Resources Weekly in Your Inbox