Everything a Child Should Know About God by Kenneth N. Taylor, illustrated by Jenny Brake. 10Publishing, 2014. 188 pages.
Reading Level: Picture books, Ages 0-4
Recommended For: Ages 0-4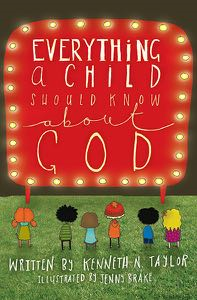 This reissue of Kenneth Taylor's systematic theology for little ones demonstrates that the essential truths of God are simple enough for tender hearts to learn. Beginning with the message of Scripture, the work and nature of God, sin, and the redeeming work of Christ, each brief chapter introduces an important aspect of basic doctrine with easy words, followed by a question to reinforce the concept.
The illustrations are simple and childlike, composed of mixed media collages of simple drawings layered over photographs. (There are some pictures of Jesus). Many of the truths are portrayed in a modern setting with a parent talking to a child, or with an application of what is being taught.
Although some parents may differ on a few points (e.g., when redemption was planned, whether Jesus came to "help" or "save" us, and the nature of the interaction between Jesus and teachers in the temple when He was twelve), these can be clarified simply while reading or possibly used as opportunities for brief discussion.
As a whole, this work is a good devotional resource to use with little ones.
(*Note: Copies of this book have been selling quickly. The second printing may be pre-ordered through Westminster Bookstore, and CBD should have some available in August.)
Cautions: none
Overall Rating: 4.25 out of 5  
Worldview Rating: 4.5 out of 5
Artistic Rating: 4 out of 5
Categories: 4 stars and up, picture books, Christian, devotionals, Christianity
Cover image from Westminster Bookstore. This book received for review from publisher for free in return for a fair review.
Reading Ahead for You
Reviews and Resources Weekly in Your Inbox